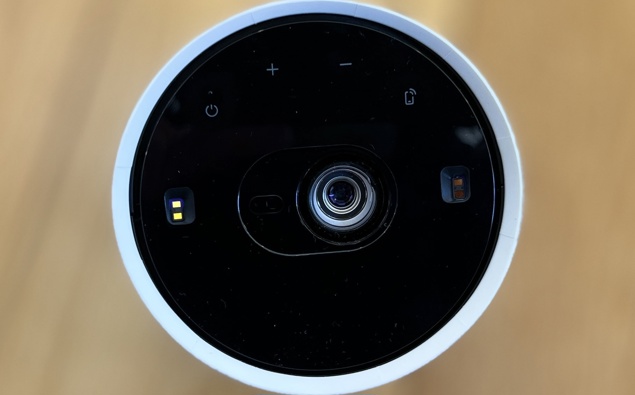 Versatility in a tiny size
After getting off to a bit of a slow start in the spotlight game, I quickly came to really like them.
I used to think they were expensive for what they were, but now that many of them offer full smart TV features, compared to the price of a physical TV, the size of screen you can get is an absolute bargain.
A half-decent projector these days will deliver a wall-sized image of just about anything you'd watch on a conventional TV; video, streaming services, games… you name it.
The are some major downsides though. First, most high quality projectors are big and heavy. Second, they are often very loud too.
If that's what's holding you back, do I have something new for you…
The Samsung Freestyle is many things but it's certainly not big or heavy. In fact, they're probably only the size, shape, and weight of a large can of pet food – except they look a whole lot nicer. It's definitely not a bulky giant box and you might think you can just move it around, easily move it from room to room, or even take it with you when you leave the house. And you would be right.
Thanks to its unique form factor and versatile swivel stand (I'll use the word "versatile" a lot in this review, by the way), the Freestyle can literally be placed anywhere; coffee table, shelf or even just on the bed. Why would you put it on the bed? I'll come back to that in a minute.
The power requirement is 50W/20V USB-PD…and yes that means if you have a portable power bank capable of delivering at least that much juice, the Freestyle is just as portable. Take it camping and stream your shows on your tent wall if you like.
The setup is…well, there really isn't a setup. While other projectors often require a lot of fiddling with their keystone and focus adjustments to get a good clear image, the Freestyle takes care of all that for you. While you can adjust these items manually, I haven't been able to do a better job than the device itself in automatic mode. You can project an image up to 100 inches with crystal clarity – you don't even need a particularly white wall; freestyle measures how stopped– white the surface is and will adjust the color scheme accordingly. Did I mention how versatile it is?
Perhaps the craziest thing about this device is that it's also a 2022 Samsung smart TV. Controlled with an ultra-thin rechargeable remote control, the Freestyle's home screen looks pretty much like any other late-model Samsung TV. As such, you can add all your favorite apps; Netflix, Disney+, Apple TV+, TVNZ+ – all the pluses – even apps like Plex and Spotify. As long as you have a Wi-Fi connection, everyone streaming is at your feet…or on your wall or ceiling.
Speaking of Spotify, you might even want to consider making it your smart speaker of choice. I wasn't really expecting much from the built-in speaker system, but I was wrong, wrong, wrong. The 5W 360 degree omnidirectional sound is a genius in audio engineering. Samsung describes the hearing experience as "immersive" and that sums it up precisely. While sometimes you'll use the Freestyle to project behind you, somehow it projects sound in a way that doesn't break the illusion of having the images in front of you. It's pretty smart. While there was is some fan noise, it's barely noticeable compared to other projectors I've come across.
Still, you can't beat a proper soundbar – or preferably even a full surround system. Fortunately, the Freestyle has a micro-HDMI port so you can plug one in. Although I've come across mini-HDMI ports on laptops before, I've never come across this even smaller option. A quick trip to PB Tech and my new eight-dollar HDMI to microHDMI cable improved my soundscape accordingly.
Of course, that's not the only thing you can plug in. Although you can mirror your phone with an NFC tap via Samsung's SmartThings app, if you prefer Chromecast (or a similar dongle) that will obviously connect with the correct adapter or cable too.
Just like your console or laptop. Giant games on my bedroom wall? Yes please!
Back to bed though. What's wrong with watching TV in bed? You have to stall to see it, don't you? By doing Freestyle in fact on your bed (or at least your nightstand), you can stream your shows and movies directly to the ceiling above you. No, don't get up. I insist.
As a disguised Samsung 2022 TV, you also get Ambient Mode – the screensaver option that turns other Samsung displays into works of art or photo frames when not in use. The Freestyle brings some additional ambient tricks to the table though; maybe you would like to diffuse a warm fire on the wall? A neon urban landscape for your cocktail party? How about kaleidoscopic mood lighting on the ceiling? Do.
So. Damn. Versatile.
The only thing this thing doesn't do is daylight. While the LED projection system is rated at 550 LED Lumen – that's still not bright enough for a lunchtime projection of the latest episode of whatever you're sulking about – but that's why they invented curtains and blinds, didn't they?
I feel like I've gone through at least half a dozen different ways to use the Freestyle and I keep coming up with new ones every day. It's not the brightest, clearest or most powerful projector ever produced, but its easy setup, great sound, full range of smart TV capabilities and extreme portability definitely earn it the versatility award. . There, I said it. Still.
Click here for more information and pricing on the Samsung Freestyle.