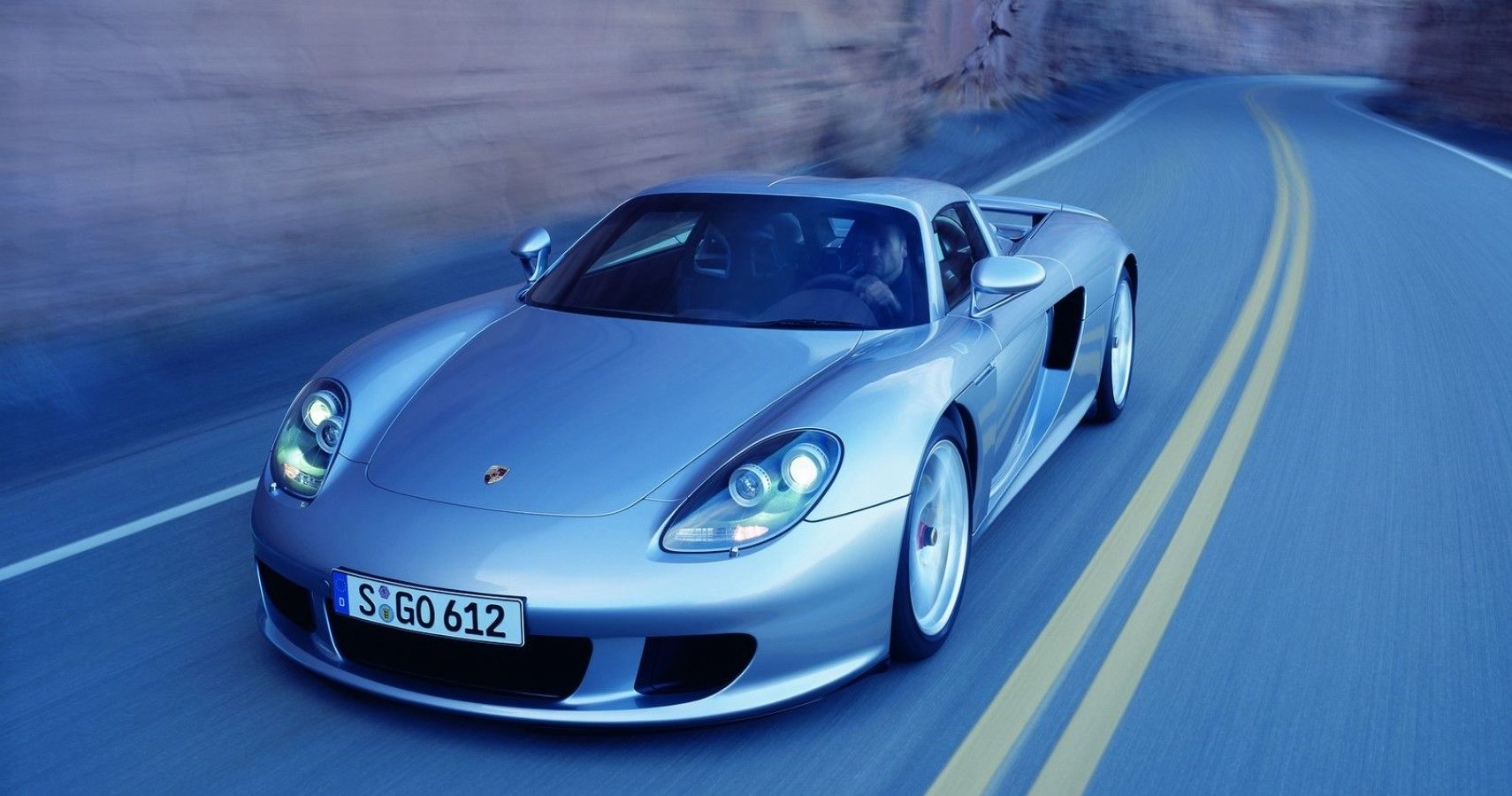 This is what made the Porsche Carrera GT so special
The Carrera GT is one of the most iconic Porsche models of all time, and just about every gearhead not only knows it, but must have dreamed of one day getting the chance to get behind the wheel of one of the 1,270 units built.
Almost two decades have passed since the Carrera GT was released, and while Porsche has released many incredible performance cars since then – like the 918 Spyder or the latest GT3 RS, none of them have managed to offer the thrill and appeal of the Le Mans-derived mid-engine supercar. From its design and sound to its power and engineering, the Porsche Carrera GT is simply one of a kind, and we'll probably never see anything quite like it again.
Otherwise known as the Widowmaker, the Carrera GT is by no means an easy car to drive, but as one of the most advanced supercars of its time, it provides unparalleled pleasure to those who know how to tame it. Here's what makes it so special.
Related: 10 Awesome Porsche Restomods…That Aren't Made By Singer
The Carrera GT features race-derived technology
Initially, the development of the Carrera GT was actually intended to compete in the 2000 24 Hours of Le Mans, meaning it was meant to become a full-fledged racing car. As a result, Porsche created a 10-cylinder racing engine for this very purpose, and after changing plans to make the Carrera GT a road-legal production car, they simply modified the engine to comply with the regulations. . What emerged was a naturally aspirated 5.7-liter V10 that developed 612 horsepower at 8,000 rpm and 435 lb-ft of torque at 5,750 rpm, which took the Carrera GT from 0 to 100 km/h in around 3.9 seconds on its way to a top speed of 205 mph.
Another prominent part of the Carrera GT that was originally developed for racing was its chassis. For weight-saving purposes, Porsche produced a monocoque and subframe composed only of carbon fiber, and it was the first production car in automotive history to boast a chassis. in carbon fiber.
Related: A Detailed Look at the Porsche 935
The Porsche Carrera GT was as aerodynamic as it came
Like most high-performance Porsches, the Carrera GT was built with aerodynamics in mind from the start, and every aspect of its exterior design is intended to promote high-speed stability and reduce drag. The vehicle features a carbon fiber underbody that directs airflow for optimized aerodynamics, as well as a rear diffuser and auto wing to keep it firmly planted at all times. Additionally, the Porsche Carrera GT also has 3 large radiators cooled by the vehicle's massive side air vents, meaning the glorious V10 will never overheat.
In terms of handling, the Carrera GT continues to improve its resume, with an incredibly competent and firm suspension that helps the vehicle stay balanced even in tight corners. Add carbon-ceramic brakes and sharp steering to the mix, and you have a certified trail ripper.
Related: This Mid-Engine Chevy Camaro Wears The Bow Tie Better Than The C8 Corvette
You could drive the Carrera GT daily
Despite its racing heritage, the Carrera GT was surprisingly drivable on a daily basis, and not by mere coincidence. Porsche engineers knew they could turn the supercar into a capable and reliable everyday driver, so they decided to make it a production vehicle after initial development. As such, the Carrera GT features a comfortable leather-covered interior with Recaro bucket seats, built-in navigation and even a Bose audio system. In the middle of the center console, raised higher than in most vehicles, you'll find a six-speed manual transmission shifter that unlocks via an ultra-responsive clutch. That's right, the Carrera GT was only offered in a manual version, which was great news for car enthusiasts, although it inevitably increased the difficulty of driving the vehicle. Additionally, Porsche managed to make the Carrera GT wonderfully reliable, and most units could run hundreds of thousands of miles with minimal malfunctions and repairs.
Related: The Most Common Problems With Porsche Cayman Ownership
The Carrera GT's engine roars like a real racing car
The soundtrack produced by the naturally aspirated V10 mounted directly behind the Carrera GT's cabin is purely acoustic, and we mean that objectively. The high-revving engine produces a high-pitched roar reminiscent of F1 racing cars, making driving endlessly fun as it screams in response to every acceleration and gear change.
Simply stunning: the Carrera GT is one of the sexiest supercars of all time
Finally, it's hard to mention the Carrera GT without highlighting the fabulously timeless design with which Porsche has adorned it. Even today it's hard to make a car look like this fine when every exterior part is functional, but German automakers have managed to do this seamlessly.
Up front, the Carrera GT features a slanted hood between arched fenders that feeds a wide, sleek mouth, complemented by sexy teardrop-shaped headlights and air intakes that mimic the same shape. The side of the vehicle is arguably its best angle, offering a great view of its flat roof and the steep finish of the rear cabin, which sits directly in front of the V10's arched, mesh hatch. You can also get a clear view of the Carrera GT's large air intakes and color-coded center-lock wheels. Finally, at the rear, the supercar features a beautiful rear spoiler that fits comfortably between the rear wheel arches when lowered, a centrally mounted dual exhaust system and a rear diffuser. elegant and very functional.
In short, the Porsche Carrera GT is simply perfect through and through, and you'd be hard-pressed to find a single flaw in its entire design. It's the definition of a genuine driver's car, not caring about fancy interior features or flashy exterior design cues, but instead staying true to its racing ascension and Porsche's fabulous engineering reputation.