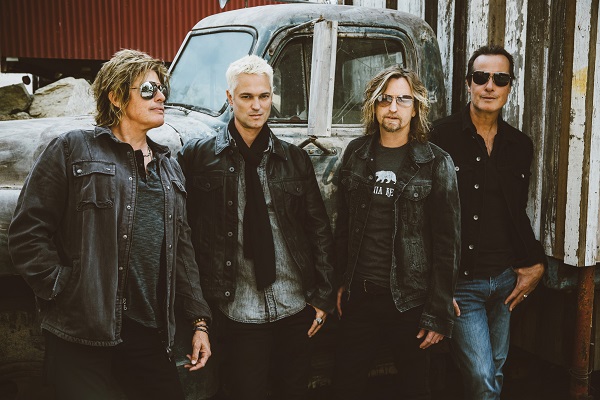 Stone Temple Pilots, interview with Dean DeLeo – Trip the Witch + More
2021-10-19
Dean DeLeo of Stone Temple Pilots joins Anne Erickson of Audio Ink Radio to discuss her Trip the Witch project, STP's "Tiny Music" and "Core" eras and more in this featured interview
Dean DeLeo is known for founding one of the greatest rock bands of the 1990s, Stone Temple Pilots, along with his brother, bassist Robert, as well as vocalist Scott Weiland and drummer Eric Kretz. But it does not stop there. In addition to STP, Dean has been involved in a plethora of music projects, his latest being a super cool collaboration with Tom Bukovac called Trip the Witch.
Dean recently released his debut album with Trip the Witch, an eponymous album released last month, and more are in the works. He's also on major tour with Stone Temple Pilots this fall, performing a series of headlining tour dates and festival appearances. See all of STP's upcoming tour dates here.
Dean DeLeo of Stone Temple Pilots spoke with Anne Erickson of Audio Ink Radio about the genesis of Trip the Witch, memories of STP's "Tiny Music… Songs from the Vatican Gift Shop" and "Core" eras and more. Read Dean DeLeo's interview below, listen through the YouTube player, and listen to it through the Audio Ink Radio show on Apple Podcasts here and Spotify here.
How Trip the Witch came together
I will take you back several months. A dear friend of mine, Ryan Williams, who actually did a lot of the engineering for STP and mixed the latest STP album – and Ryan designed all of my Trip the Witch stuff, and he also mixed it. 'album. Ryan sent me a YouTube video of Tom called "Home Schoolin '", and I was so bowled over by Tom's play. Really repulsed. It might sound a little unbelievable, but I think you will get it. I felt I had this connection with Tom just seeing him through a video. I felt like we were soul mates.
On the making of Trip the Witch's first album
Over the course of a few months, we wrote the record using our cell phones, just sending movies back and forth. We never used Zoom, ironically enough! (Laughs) We just sent films back and forth. What's really cool is that lately on the band's Instagram I posted some of the videos we sent to each other making up the record so it was cool to have all that.
On the occasion of the 25th anniversary of the disc "Tiny Music… Songs from the Vatican Gift Shop" by Stone Temple Pilots, which takes place this year and around this time
I cannot say enough. It was such a beautiful, beautiful time. It was a great time in many ways. It was also a time when Scott really had demons, and it was truly a double-edged sword. We went to the beautiful Santa Ynez Valley to do this drive. We were in a house – I think it was a house of about 30,000, 40,000 square feet on 100 acres, where we all lived. The four of us lived, and Brandon lived there with us, and then three or four crew members lived there, because we were using every room in the house to record… It was a lot of fun, in that regard. , to make this record in this big old house, and we all live there, and it was so common and so beautiful. It was just amazing. Just amazing. Then, of course, it's always cathartic when you have what's coming out of the speakers going through your head. It's always a cathartic process to hear this music that makes you a little itchy.
On the upcoming 30th anniversary of Stone Temple Pilots' album "Core" in 2022 and what gives this album such longevity with fans
I have to say these are the memories he forged as people listened to him. I have so many people coming to me at this point in life. So, how long ago was this record set 28, 27 years ago? So I have people coming to me now, and they're a little older now, they come to me and say, "I remember exactly where I was the first time I heard 'Plush'. Some are more interesting. that others! (Laughs)
I hear a lot of things: 'I was in the back of my car, and this is my wife. I married her. I was in the back of my car with this woman, and 'Plush' was on the radio, and we were getting there. I say to myself hey, enough is enough! I don't need to know anymore, but congratulations on your wedding! (Laughs)
So I think for all of us it's the memories that it made, and that's the beauty and the power of music. A song comes along, and it takes you straight back to that time and that memory, and I hope it's that beautiful, unforgettable memory that truly stays in your heart.
On STP singer Scott Weiland's incredible vocal abilities
Scott was really a singer. Scott was a crooner, and I'm going to tell you something that a lot of people won't know, and a lot of people will say, I don't mean I don't understand that. But, really, go listen. Listen to the way they breathe. Hear how they enunciate, and not so much the enunciation, but listen to how they breathe through the song and deliver line and lyrics in a melodic sense. Scott was heavily influenced by Karen Carpenter. If you go back and really listen to Scott's performance, then listen to how Karen said a line or a word or how she breathed and where she breathed, Scott was really like her, and Scott – I can't comment on that. enough about his talent. He was amazing. He was a real singer with those half inflections or half inflections.
A lot of times when we brought these people in to audition, a lot of people just stepped over that stuff. "Interstate Love Song" is a perfect example. There are a lot of half-step inflections in there, and we've had a lot of singers who walked past them. We tell ourselves you're missing some notes, man. When Jeff (STP's new vocalist Gutt) came along, Jeff really, really sang every song that we gave him.
comments
comments
Similar Items