Still Freaky: Korn conquers the capital region
[ad_1]
Concert-goers across the Capital Region were clearly "ready" on Sunday night, answering the question that started it all for enduring alt-metal icons Korn. Heading to the new MVP Arena (formerly the Times Union Center) in droves, it had been several years since local Albany "freaks" had seen the metal stalwarts of Bakersfield, Calif., in this type of setting. Fresh off their 12and studio album Requiem, the pioneering titans silenced anyone who thought they might have become soft, clubbing fans with a career-spanning selection of angst-ridden anthems, radio hits and OG favorites. Always there, always unstable and always sucks, that night Korn reminded everyone exactly why, at one point, they were considered the kings of the genre.
Swap JNCOs for black leather trench coats and hit the road for 19 dates with other hard rockers Chevelle and code orange, the group that won two Grammy Awards have an ambitious spring. Consisting of vocalist Jonathan Davis, guitarists James "Munky" Shaffer and Brian "Head" Welch, bassist Reginald "Fieldy" Arvizu and drummer Ray Luzier, Korn's level of reach over the years transcends accolades and certifications from platinum. While it's easy to mock their name and the nu-metal scene they've been instrumental in bringing to the masses, Korn has shown that they are indeed "here to stay" by continuing to push the boundaries. and finding ways to connect with a whole new generation. You see, in 2022, they have very little left to prove. From capturing the boy band craze of the late 90s to selling over 40 million albums, at their peak, Korn was arguably the biggest band in the world. Many will remember their star appearances on TRL and SNL, their Family Values ​​tours and their infamous headliner on the opening night of Woodstock '99, before Rome went up in flames. Nowadays, however, you can almost count the number of "heavy bands" that have survived that era for one thing. A testament to their longevity, that night in Albany, many people still wanted to see Korn fall.
They came dressed in black, some with tattoos and eyeliner, some covered in piercings, some with neon colored hair and sexy boots, and yes, a few "freaks" came swimming in their JNCO vintage wide leg. For the most part though, the fans who turned out were just typical metalheads; the burly, bearded, beer-drinking guy next door who's probably been "following the leader" for almost thirty years. After strong first sets from Code Orange and Chevelle, it was finally time for what the Korn Kids came for.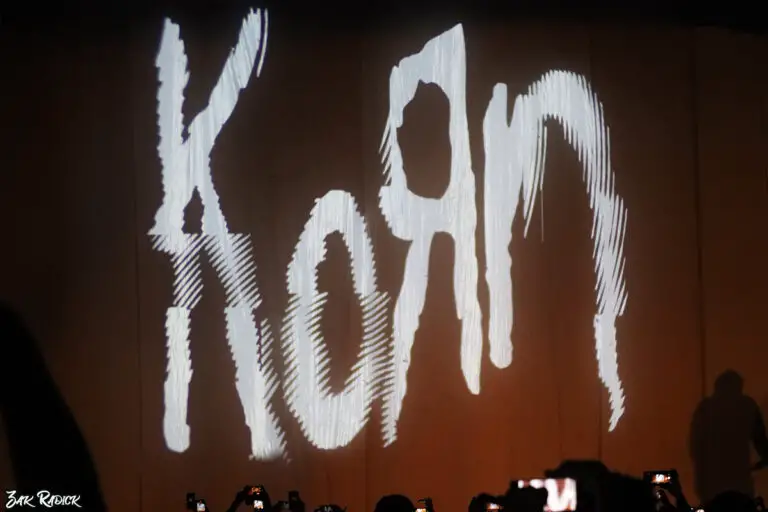 As the lights suddenly went out, a moody piece of orchestral music began to echo through the MVP Arena. After a few moments, a large curtain with the Korn logo became visible on stage, backlit to reveal the silhouettes of the band members taking their iconic positions of power. As the anticipation reached fever pitch, the veil suddenly parted and fell to the floor as Korn launched into "Forgotten," the first track from their new album. Fans instantly locked in there, bursting out in unison while flailing their fists to the song's heavy riff. The band looks fresh and is already feeding on Albany's energy, also bouncing off the groove in perfect syncopation, dreadlocks flying in all directions, bent at the waist as their instruments practically touch the stage; the thunderous, steady hands of drummer Ray Luzier anchoring it all from his massive kit above the stage. Heading to the races, Korn quickly followed up with one of their biggest radio hits in "Got the Life," allowing fans to "get in the boogie" and show off their vocals on the song's chorus.
The thick, muddy single "Here to Stay" came next, followed by a relatively untested new song from their latest album called "Start the Healing". Frontman Jonathan Davis, who admits he feels most comfortable when he's in pain, was in fine form here. Sounding as good as it ever did and just as tormented. His unique, throaty, throaty cries filled the arena as he paced back and forth across the stage like a hungry lion that had just been released. Closing her eyes and clutching The Bitch (her custom-made HR Giger mic stand), watching Davis exercise her demons live, there's no denying her sincerity. The unimaginable pain of his past is obviously still there and still fueling an unbridled rage. Abuse speculation aside, whatever happened to Mr Davis in his youth clearly had a lifelong impact. The type of torment that very few people overcome and very few people can truly understand.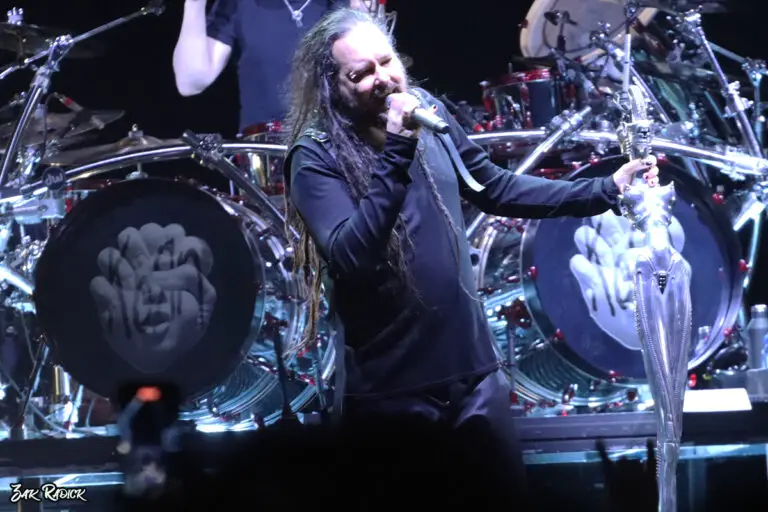 Celebrating the twentieth anniversary of their Untouchables album, Korn would dust off a bit of a rarity in the form of "No One's There." Davis would then break out bagpipes for the iconic intro to 1994's demented nursery rhyme "Shoots of Ladders", even working at one point into a match of Metallica's "One" before returning to his usual structure. Sensing an opportunity to slip in another new track, Korn upped the ante with "Lost in the Grandeur," which saw Brian "Head" Welch really get into it. If dreadlocks could tell a story, Head could write novels. A few inches taller than the last time we saw him, the man has become something of an inspiration to fans battling the despair of addiction. After stunning the metal world in 2005 by quitting the band and finding faith again, it would be years before fans found out the reality of the situation. After overcoming a life-threatening drug addiction and learning how to better deal with severe bouts of depression, Welch joined his brothers in the band in 2012. Seeing him look healthy, happily headbanging and throwing from souvenir guitar picks to fans, you couldn't help but respect the dude. Let's face it, Korn just isn't Korn without the chemistry between Head and guitarist James "Munkey" Shafer and if imitation is the sincerest form of flattery, this dynamic dreadlock duo of 7-string slingers could have its own monument. The signature sound they created was on full display for the next two songs, a pair of radio hits in "Ya'll Want a Single" and "Falling Away From Me".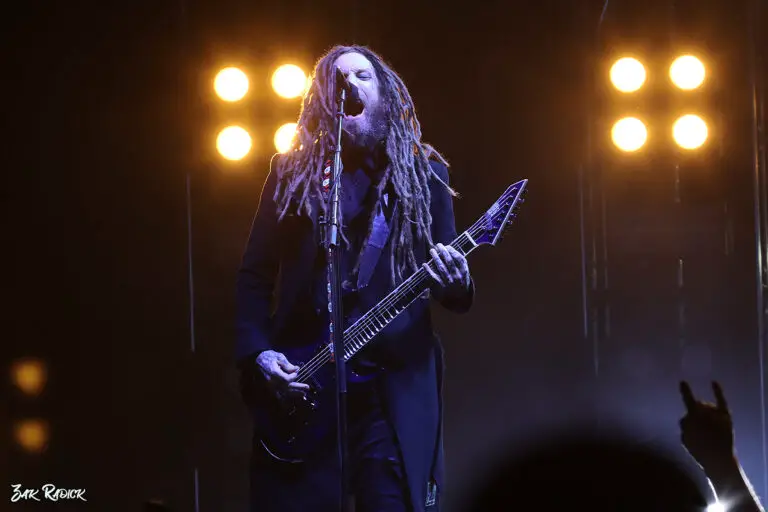 There was a fun moment during "Coming Undone" when the band made a surprise transition to Queen's classic rock anthem "We Will Rock You." The main part of the set then ended with perhaps Korn's most well-known song, "Freak on a Leash", the breakdown giving bassist Reginald "Fieldy" Arvizu a great opportunity in the spotlight to highlight valued its impressive musical chops, resulting in a raucous and sustained ovation from fans of all ages as the band left the stage.
After a few minutes of soaking in cheers, Korn happily returned to play a few more. The first was a sort of medley consisting of the opening track from 1998 Follow the Chief, "Let's go!" mixed with the songs "Trash" and "Did My Time". From there, one of the most unique and inimitable songs in Korn's discography, the growling Davis-led beatbox-style scat-rap of "Twist" that flowed straight into a song that was on the shelf in recent years, "ADIDAS". Capital Region side showing up during the teenage acronym hit when the whole arena sang together "I don't know your fucking name, so what? Let's fuck! then simultaneously shouting that "all day [they] dream of sex. A truly memorable and somewhat hilarious moment. After an impressive but obligatory drum solo from Luzier, Korn thanked fans for all their years of support, promised they would be back soon, then sent the crowd home happy with the song that put them on the map. , a celebratory rendition of "Blind," complete with a cannonball of party confetti and streamers and massive applause from the Albany Korn Kids who still deeply appreciate and respect this band.
Like stepping back in time, this "freak show" felt like a nostalgic throwback to the glory days of the late 1990s. shows no signs of slowing down. With their impressive and physically demanding stage presence, unparalleled intensity, energy and rage, it was as if Korn had found the fountain of youth that night in Albany. Music trends come and go, but it's still rock n' roll and there will always be an audience hungry for this type of angry, defiant and cathartic music. On that memorable night in mid-March, metal fans got exactly what they paid for.
korn | March 20, 2022 | Albany, NY | MVP Arena
Set list: Forgot I've got life, here to stay, start healing, no one's here, shoots and ladders, lost in greatness, y'all want a single, fall away from me, the worst is on the way, come undone Freak on a Leash
Bis: It's On / Trash / Did My Time, Twish, ADIDAS, Drum Solo, Blind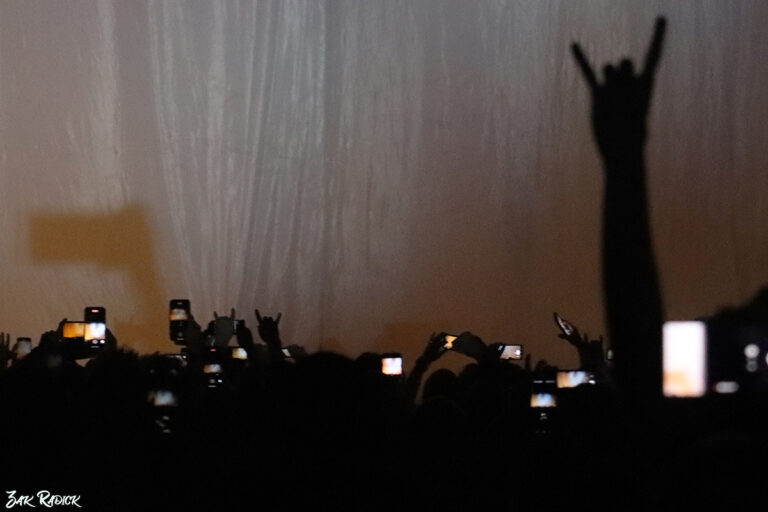 [ad_2]
Source link