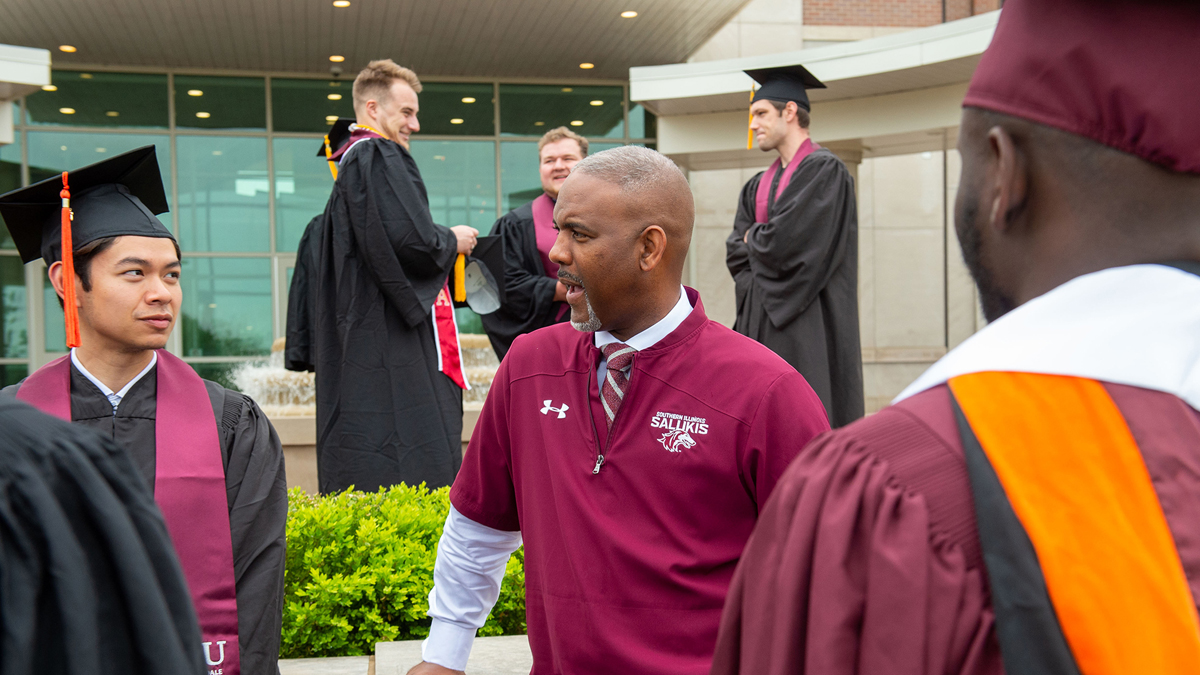 Sixteen Chancellor's and Provost's Scholars have graduated from SEU Carbondale
Chancellor Austin A. Lane visits several of the Chancellor's and Provost's Scholars at Southern Illinois University at Carbondale. The launch exercises took place on May 6 and 7. (Photo by Russell Bailey)
May 09, 2022
Sixteen Chancellor's and Provost's Scholars have graduated from SEU Carbondale
CARBONDALE, Ill. — They came to Southern Illinois University Carbondale because of their outstanding efforts both in the classroom and in their hometown. Now 16 high-achieving Chancellor's and Provost's Scholars are leaving university with degrees after commencement exercises last weekend.
The Chancellor's Scholarship, SIU's most prestigious freshman award, is a significant achievement for students as it covers tuition, mandatory fees, room and board for four years. The Provost's Scholarship is the university's most prestigious scholarship for transfer students and covers tuition and compulsory fees for two years.
Illinois Comptroller Susana Mendoza sent each of these graduates a letter of recognition for their many accomplishments, said LaShonda Stewart, a professor at the College of Business and Analytics and director of the Chancellor's Scholars Program.
These accomplished students, listed by hometown, name, degree, and high school or community college, are:
ILLINOIS
Bolingbrook: Prem S. Rana, dual bachelor's degree in computer science with a specialization in artificial intelligence and robotics, and radio, television and digital media with a specialization in radio and audio production; Bolingbrook High School.
Brookfield: Sarah Ann Marie Cada, Bachelor of Aviation Management and Associate's Degree in Aviation Flight, with minors in Airport Management and Planning and Air Traffic Control; High school of the commune of Lyon.
Du Quoin: Morgan R. Winters, BA in English Literature; John A. Logan College.
Edinburgh: Mason Dulakis, BSc in Chemistry; Edinburgh High School.
Forest park: Oliva L. Mallett, Bachelor of Accounting; Walther Christian Academy.
Goreville: Tanner Dunn, BA in Criminology and Criminal Justice with a minor in Political Science; Shawnee Community College.
Herrin: Nicolas D. Bartelsmeyer, bachelor in civil engineering; Herrin High School.
Mario: Abigail C. Bayer, BA in Mathematics Education; Marian High School.
East: Tanner L. Clark, BSc in Mechanical Engineering; Lake Land College.
Pinckneyville: Stephen Wagner, Bachelor of Mechanical Engineering; Makes Lake College.
Romeoville: Ryan Rubino, BSc in Mechanical Engineering with a minor in Mathematics; Joliet Catholic Academy High School.
Stone Fort: Jacob E. Rice, BSc in Biomedical Sciences with a minor in Psychology; Southeastern Illinois College.
Brook wood: Abigail H. Ramsey, BA in Psychology and Criminology/Criminal Justice; St. Francis College Prep.
Virden: Cole Kallenbach, Bachelor of Biological Sciences; North Mac High School.
Western sources: Angelina R. Kapp, Bachelor of Aviation Technology, Associate's Degree in Aviation Flight, with a minor in Environmental Studies; High school of the commune of Lyon.
FLORIDA
North Port: Grace J. Lafo, double major in communication disorders and sciences, and linguistics, with minors in American Sign Language and psychology; Pine View School.