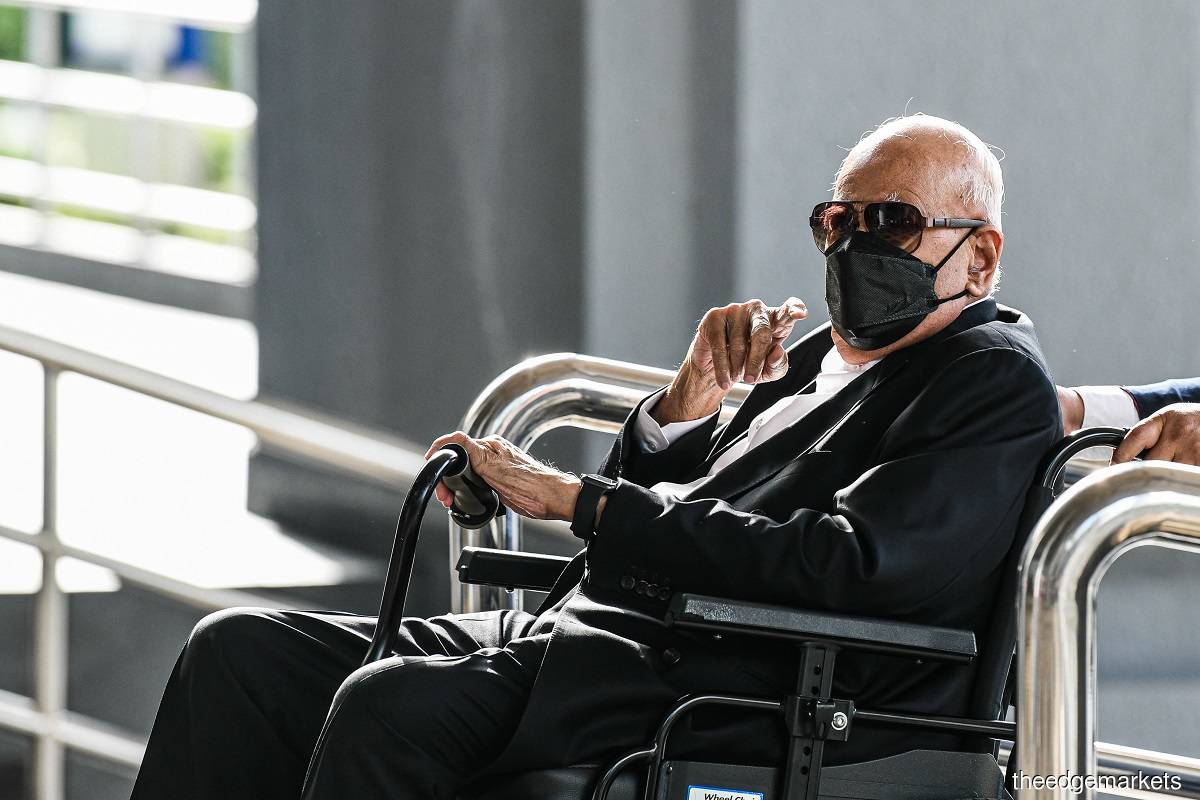 Prosecution in 1MDB-Tanore trial seeks to admit audio recording of alleged conversation between Najib and Middle East leader
KUALA LUMPUR (November 15): The prosecution of 1Malaysia Development Bhd-Tanore (1MDB-Tanore) has sought to admit audio recordings to refute former Prime Minister Datuk Seri Najib Razak's defense that money is at the heart of the charges which he faced were donations.
During his oral submissions on Tuesday, November 15, lead prosecutor Datuk Seri Gopal Sri Ram said the audio recording of an alleged conversation between Najib and a Middle Eastern leader was "highly relevant" in rebutting Najib's defense.
"We say that the contents of the tape and transcript will go to some extent, if not the full length, to rebut the defense that the defendant received a gift and believed he was dealing with funds which he have been given.
"I have to respond to that defense and I have to refute that defense, to that end this evidence is very relevant," he said.
Sri Ram had introduced the recording during Monday's proceedings because he wanted the prosecution witness, former Treasury Secretary Tan Sri Mohd Irwan Serigar Abdullah, to identify the voices in the audio.
However, lead defense attorney Tan Sri Muhammad Shafee Abdullah had objected to the admission of the audio and suggested that the recording may have been obtained illegally.
Sri Ram said on Tuesday that he wanted to admit the audio for identification purposes only.
He argued that the recording should be admissible under Section 41(A) of the Malaysian Anti-Corruption Commission (MACC) Act and that it is a "special provision". which takes precedence over Section 65 of the Evidence Act which deals with documentary evidence.
"For this purpose, we also submit that a tape recording, a recording of this nature, is a document," he said.
He also said that even if the audio was obtained "irregularly or illegally", it will still be admissible.
Section 41(A) of the MACC Act provides that where a document or a copy of any document is obtained by MACC under this Act, that document is admissible in evidence in any proceeding under this Act. , notwithstanding anything to the contrary in any other written law.
Earlier on Tuesday, Sri Ram told the court that he would make oral submissions and would file written submissions later. In turn, Muhammad Shafee informed the court that he would respond to Sri Ram's submission on another date.
The claim that monies paid into Najib's account were donations has been repeated by the defense since the start of this trial – as well as throughout the SRC International Sdn Bhd case, for which Najib was found guilty. of the seven counts of bribery in connection with the funds of the former 1MDB unit.
The trial before High Court Judge Datuk Collin Lawrence Sequerah resumes on Wednesday afternoon.
Edge Media Group Chairman Tan Sri Tong Kooi Ong is expected to speak.
In this lawsuit, Najib is charged with four counts of abuse of power and 21 counts of money laundering involving RM2.28 billion of 1MDB funds.