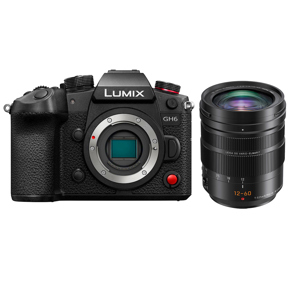 Panasonic Lumix GH6 Mirrorless Camera with Leica DG 12-60mm f/2.8-4.0 DC-GH6LK Lens
Color profiles and LUTs.
The LUMIX GH6 offers over 12 stops of wide dynamic range for V-Log recording, which comes pre-installed. Using dynamic range boost, creators can achieve up to 13+ stops. V709 LUT with Rec.709 standard is available in the camera. View your footage with the LUT applied in live view as well as in playback mode with the V-Log View Assist feature. Video assist features including waveform monitor, zebra pattern, luminance spot meter, frame marker, anamorphic desqueeze display, red REC frame indicator and lamps Tally are included. The new safe zone marker has been added and guides users by displaying a 95%, 90% or 80% recording zone. In addition to these already improved features, the GH6 also has a central marker, which gives users the option to choose the type of marker, and it has also integrated Kelvin values ​​into the recording display.
Professional level audio.
Enhance your audio by choosing between either (or both) an XLR microphone connected via the XLR microphone adapter (Ch1, Ch2) and a built-in microphone (Ch3, Ch4). With both of these options, you will be able to record 48/96kHz 24-bit Hi-Res audio. Perform a sound check during audio recordings by plugging in headphones via the headphone jack and accessing the audio menus during live video recording (available via the Fn1 button).
Smart mobility, efficient operation.
Thanks to the new sensor and image processing engine, autofocus performance has been improved. With faster signal processing and an improved algorithm, subject detection has never been better. Manual focus options are available on the LUMIX GH6 to support high precision focusing. Users can adjust the sensitivity from 90 to 360 degrees in 30 degree increments. Now creators can take photos and record videos with MF Assist. With a mechanical shutter, the GH6 produces high-speed burst shooting at 14 (AFS) and 8 (AFC) fps, or 75 fps with an electronic shutter. View it all on the built-in 3.0-inch free-angle touch-control monitor, which has a high resolution of 1,840,000 dots in a 3:2 aspect ratio.
Build quality and performance.
With the LUMIX GH6, you can record unlimited videos in C4K 60p 4:2:2 10bit by optimizing the heat dissipation path with a forced cooling mechanism. Creators can also enable video recording of VFR/HFR, ProRes, and high-res footage, even beyond 4K. With a fully cast magnesium alloy front and rear frame, it is splash, dust and freeze resistant to 14 degrees Fahrenheit. Additionally, the shutter unit can handle approximately 200,000 cycles. The front and top of the camera have a record button for easy use in most situations.
Extensive storage.
The LUMIX GH6 has two card slots: a CFexpress (type B) card slot and an SD UHS II memory card slot.
Connectivity for the pros.
Panasonic has equipped the GH6 with an HDMI type A terminal and an anti-theft cable holder for a secure connection. Users can recharge the camera's 2200 mAh battery using AC or USB power. A 5 GHz Wi-Fi connection provides fast data rates and Bluetooth 5.0 ensures a constant connection with devices while consuming little power. Get even more connectivity and control using the LUMIX Sync app for iOS/Android. The additional LUMIX Tether app enables tethered shooting and can be controlled by plugging it into a PC via USB and using the monitor to display the live image.
Expected future firmware updates:
There is currently no set schedule for future firmware updates, but many new features will be added to the GH6:
・DCI4K ProRes 422 HQ / ProRes 422 ・FHD ProRes 422 HQ / ProRes 422 ・USB-SSD direct recording ・4K 120p HDMI video output during live view ・DCI 4K 120p HDMI RAW video data output to ATOMOS Ninja V+