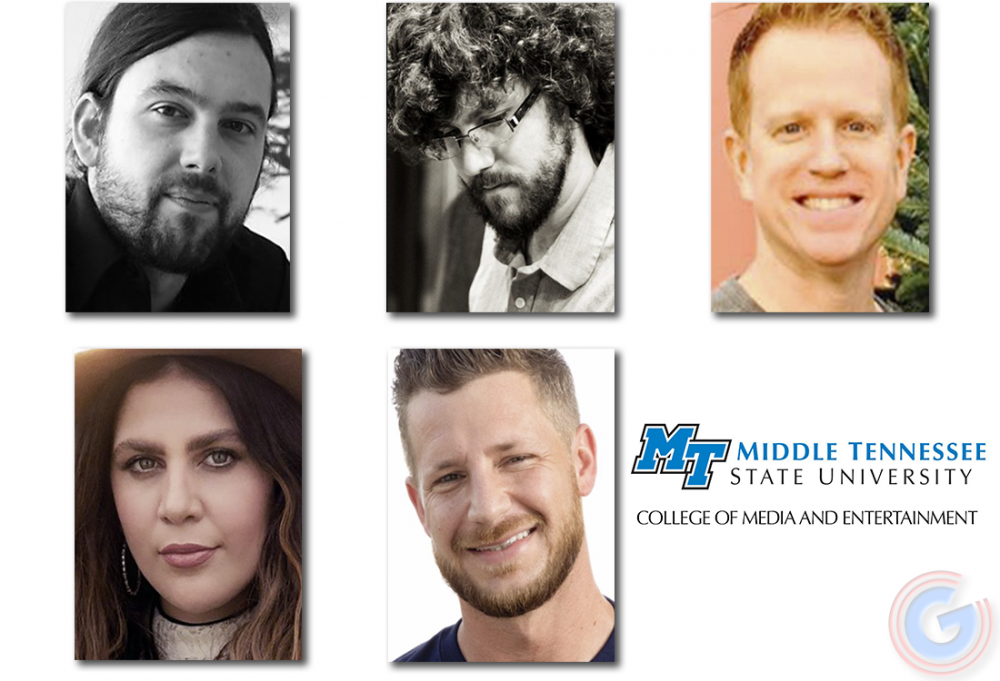 MTSU-trained Grammy nominees recognized for songwriting, vocals and engineering
Top left to right: Aaron Raitiere, Bradon Bell, Tony Castle, Hillary Scott and Rob Willford
(MURFREESBORO, TN) Songwriters, engineers and singers who honed their talents at Middle Tennessee State University have once again been singled out for recognition with the recent announcement of the nominees for the 65th Annual Grammy Awards.
The list of nominees includes:
Music biz alumni, band's right-hand man and writing partner to two-time reigning CMA Artist of the Year Luke Combs, Rob Williford, is named Co-Writer of Best Country Song for 'Doin' This".
Grammy-winning Master of Fine Arts and Recording Technologies alumnus Aaron Raitiere, whose songwriting and vocals are an integral part of Ashley McBryde's best country album, the conceptual collection of small-town tales from "Ashley McBryde Presents: Lindeville".
Recording industry graduate and Grammy winner Brandon Bell, whose mixing work on Brandi Carlile's "In These Silent Days" earned him multiple nominations, including album of the year and the best Americana album, as well as the record of the year for "You and Me on The Rock".
Multiple Grammy winner and recording industry graduate Tony Castle is nominated for engineering icon Willie Nelson's new country album, 'A Beautiful Time'.
Multi-Grammy Award-winning former student Hillary Scott, who won her awards as part of the band Lady A and for her solo contemporary Christian music performance work and is back in that category with the sibling duo for "For God is With Us" by KING & COUNTRY.
The 2023 Grammys will air live Sunday, February 5 from 7-10:30 p.m. Central on CBS and Paramount Networks+ from the Crypto.com Arena in Los Angeles. The nominees were announced on November 15.
MTSU plans to once again take a contingent of College of Media and Entertainment students, faculty and administrators to Los Angeles for a long weekend of gathering with local alumni and attending events Grammy backstage and before the show.
Range of talents – Williford, a 2016 MTSU graduate from Gastonia, North Carolina, won his first No. 1 single, "One Number Away," in August 2018 and the 2019 CMA Song of the Year award for the quadruple platinum "Beautiful Crazy" . "
The 2009 alum Raitiere won his first Grammy at the 2020 ceremonies for co-writing "I'll Never Love Again" for "A Star is Born" in the Best Song for Visual Media category.
The Danville, Kentucky native co-wrote all but one of the songs and sings on two of McBryde's concept album, which the couple and a friend created. Their musician buddies, including Brandy Clark and Caylee Hammack, join them to form the "cast".
Bell, a 2004 graduate who has crafted projects for artists ranging from Amythyst Kiah to The Lonely Island to the Zac Brown Band, as well as Raitiere's new album, won the Bluegrass Album Grammy for mixing " Nobody Knows You", the 2012 release of the Steep Canyon Rangers.
Castle, a 1995 MTSU Record Industry Production and Technology alumnus, won two Grammys for engineering Nelson's projects featuring the songs of George Gershwin and Frank Sinatra, respectively.
According to Grammy rules, the awards for Best Album and Best Record of the Year are given to the winning artist, producers and/or engineers. The song of the year award goes to the songwriter and the performance awards go to the artist.
Lady A – Scott, Dave Haywood and Charles Kelley – won the first of their five Grammys in 2009 for 'I Run to You' and then began a two-year sweep in country album, performance and record of the year categories who also won 1980 recording industry alumnus L. Clarke Schleicher three engineering Grammys.
Scott's 2016 indie album "Love Remains" also won his solo Grammys for Best Contemporary Christian Music Album and Best Contemporary Christian Music Performance/Song.
37+ Grammys since 2001 – MTSU's Recording Industry Department, part of the College of Media and Entertainment, trains songwriters and performers in its commercial songwriting program, music recording experts, and performers. live audio in its audio production program, and music entrepreneurs, including managers and publishers, in its Music Business Program.
MTSU alumni, former or current students, and faculty across the university have been part of more than 134 Grammy nominations over the past two decades.
The number of Grammy winners connected to MTSU since 2001 currently stands at 15 with a total of 37 Grammys, including nine repeat recipients, in categories ranging from classical to pop to rock to country to gospel.
The Department of the Recording Industry and the College of Media and Entertainment are currently marking an eighth year on Billboard's latest International list of top music business schools, once again earning praise for diversity, the depth and longevity of the program.
For more information about the Recording Industry Department at MTSU, visit https://mtsu.edu/recording-industry.
More details on the 65th Annual Grammy Awards are available at https://Grammy.com.
Additional headlines from WGNS NEWS:
---