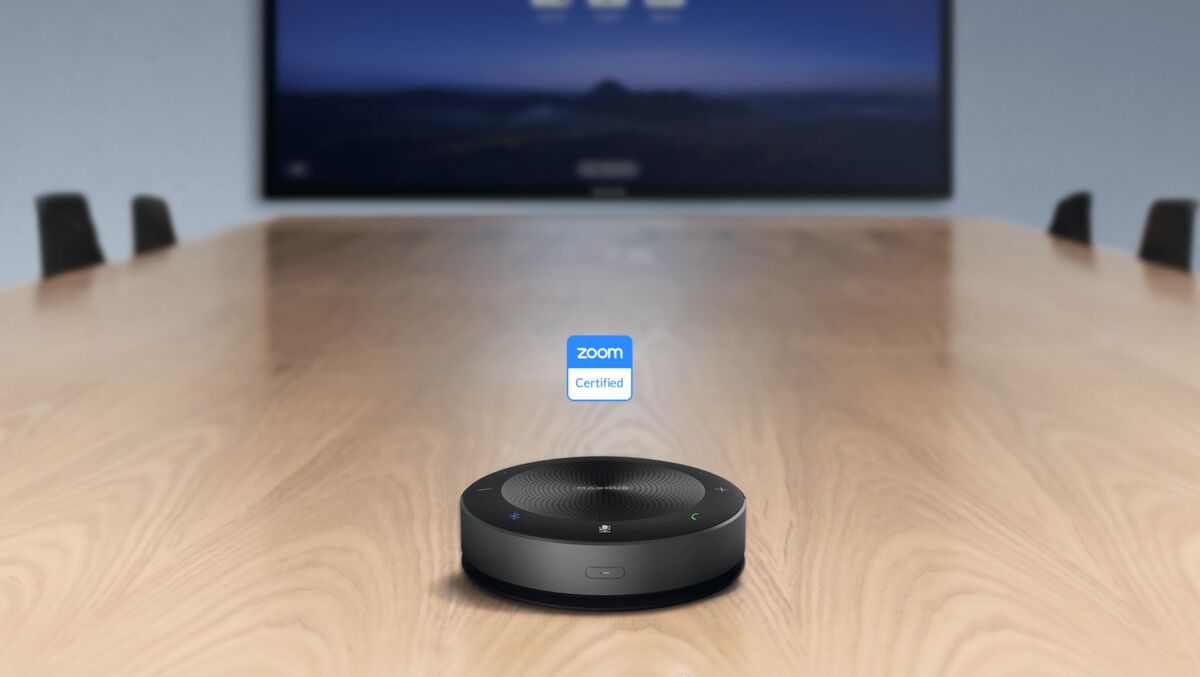 MAXHUB UC BM21 Conference Speakerphone Achieves Zoom Certification
MAXHUB, a market leader in creating innovative collaboration solutions, recently announced a new development for its unified communication product portfolio. The impressive UC BM21 all-in-one Bluetooth speaker is now officially certified by Zoom, the market leader in cloud meeting solutions.
Achieving Zoom certification identifies the MAXHUB UC BM21 device as a high-quality solution for plug-and-play communication that meets or exceeds Zoom's requirements.
Designed for the modern workplace, the BM21 Series speakerphone can be permanently installed in the office, or for staff adapting to remote and hybrid working models, it combines impeccable ease of use with crystal-clear audio quality and reliability.
As a Zoom-certified device, buyers can rest assured that the MAXHUB UC BM21 conference speakerphone works seamlessly and intuitively with Zoom Meetings and Zoom Rooms environments.
Obtaining Zoom Certification
Obtaining Zoom certification is another successful step for MAXHUB in cooperating with key industry partners. This achievement demonstrates the company's commitment to creating user-friendly devices for the modern age of work, with enterprise-grade quality and functionality.
MAXHUB UC Product Manager, Keith Kang, comments on the prestigious achievement, saying, "Zoom certification reassures users that MAXHUB can deliver the high quality required in today's crucial Zoom meetings. Intuitive plug-and-play design, combined with state-of-the-art sound defines the BM21 UC Tool as a tool for maximum performance, with minimum configuration complexity. With Zoom and MAXHUB, every meeting participant can get the most out of their conferencing sessions. »
The MAXHUB UC BM21 speaker
The BM21 UC Speaker is a comprehensive collaboration and communication tool that can meet Zoom's high standards for flawless communication performance. The product features 360-degree omnidirectional voice pick-up capability, wireless charging, 8-hour playtime, and provides clear audio quality in any environment.
Plus, at just 1.5 inches (3.81 cm) tall and less than 5 inches (12.7 cm) in diameter, the BM21 can blend seamlessly into any meeting room space.
A set of large, dynamic speakers equipped with enhanced DSP for intelligent noise reduction and echo cancellation, ensures users hear natural, clear sounds from any position in the meeting room, while the 6-element PZM boundary microphone intelligently masters omnidirectional voice acquisition. It is the ideal microphone and speaker solution for the conference table in small to medium meetings.
Zoom Certification Program Manager JC Leffler said, "We are very happy to see the official cooperation between MAXHUB and Zoom. We have already seen MAXHUB's capabilities in the UC BM21 product and look forward to continuing our cooperation with MAXHUB in the future.
A significant step for MAXHUB technology
MAXHUB, a brand owned by CVTE Group, a world-renowned provider of smart display solutions and advanced collaboration products, believes this certification will be the first of many to come for its burgeoning UCC product portfolio. growth. Since its launch, MAXHUB has focused on developing cutting-edge interactive technologies and intelligent solutions optimized for use in modern work, education and healthcare environments.
Achieving Zoom certification is significant progress for the MAXHUB team in delivering flawless quality products. As MAXHUB General Manager Darren Lin notes, "Zoom's hardware certification program has inspired us to prove ourselves to our customers and demonstrate our ability to deliver the high-quality audio and video collaboration experiences that teams need. Going forward, MAXHUB will continue to create better solutions for Zoom customers. »
For more information, visit MAXHUB at https://www.maxhub.com/en/zoom/