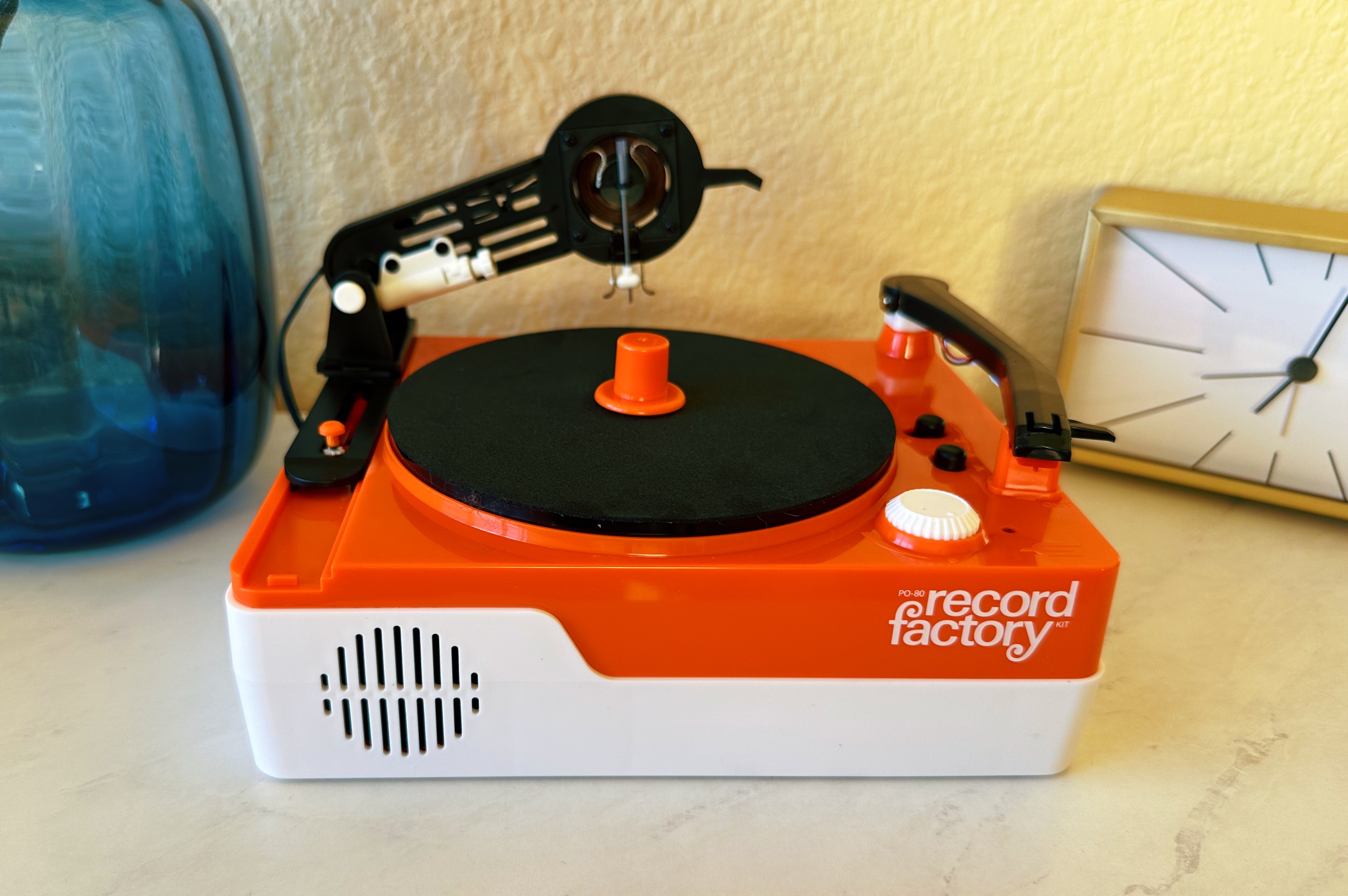 Make vinyl records with the PO-80 Record Factory
If you listen closely, you can hear a soft-spoken hipster in the corner of an artisan cafe respond to an acquaintance by telling him about the new vinyl record he just bought. "Oh, do you still buy records at the store? Cute. I recently started burning my own records at home with the new PO-80 Record Factory from Teenage Engineering."
Kidding aside, there's nothing pretentious about the PO-80 Record Factory and its vinyl record-making process. Teenage Engineering makes you work for all the results you get by requiring you to completely assemble the unit, including connecting all the wires. This irresistibly designed product is a clash of passions, a wave of music enthusiasts on one side meeting with technology enthusiasts on the other.
Be warned: this is not a pressing plant where you can cut Taylor Swift's new album for distribution in Target. It's new in almost every way. It's as much about learning technology and music as it is about listening to songs. It's cool in pictures and, for $149, it's cool in real life too.
TL;DR
Advantages:
Clever concept for creating vinyl records at home
Small and portable, powered by USB-A cable
The inconvenients:
Potentially difficult assembly process
Lo-Fi sound quality
Buy from SFMOMA.
What is the Record Factory?
Let's start with the basics. The PO-80 Record Factory is a small record cutter capable of creating and playing 5 inch vinyl records. The portable unit is low fidelity, and it doesn't try to be otherwise.
The Record Factory comes in the form of a kit that you have to build yourself. The pieces are quite complex, and the company recommends assembly for ages 13 and up. The instruction booklet looks like a traditional newsstand magazine. It starts with an interview detailing how the product was created, then morphs into a dense step-by-step guide to putting it together.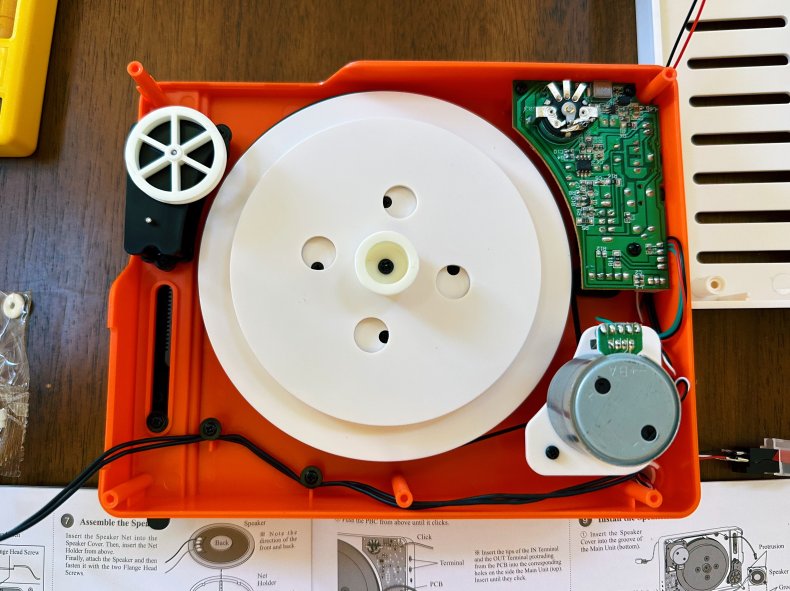 My kit came with six plastic discs, each with around 3-4 minutes of recording time per side, depending on whether you're using 33 or 45 RPM. (Additional discs are available in a 10-pack for $20.) A 3.5-millimeter audio cable, spare cutting needle, and adapter for 7-inch discs are also included.
I made it through the assembly process, but it was really tricky. Or rather, it needed some special attention, as I couldn't wait to jump ahead and start using it. Looking back, the requirement for people to build the Record Factory allows them to become intimately familiar with the various rooms. If something went wrong later on, I would feel more able to play around with the pieces to try and fix it myself. It's a unique sentiment in today's disposable landscape.
What can the PO-80 Record Factory do?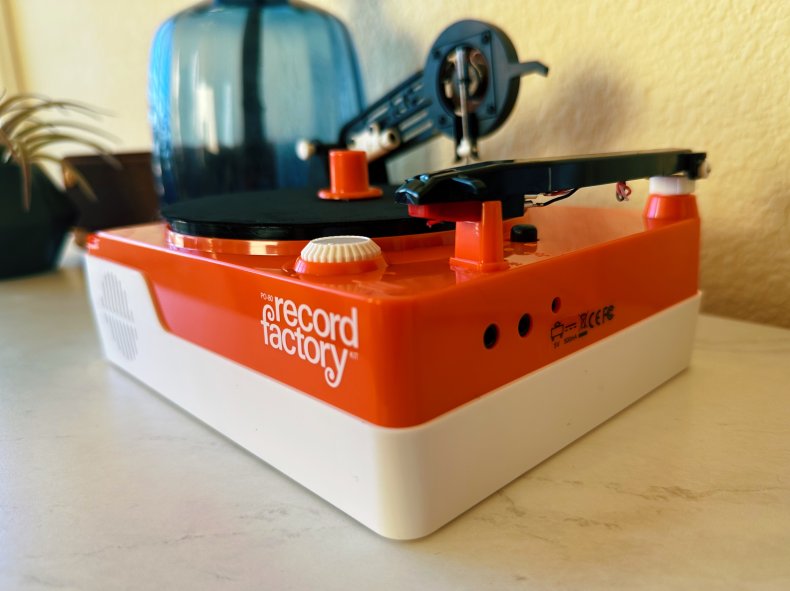 If you look directly at the PO-80 Record Factory, the left side houses the cutting needle and the right side houses the reading needle. Simply put, the cutting process works by plugging the 3.5 millimeter cable into a device with the audio you want to burn into the plastic. When the power is on and the switch is in the off position, the left hand starts out and slowly moves in.
Like assembly, cutting was a tricky process to master. It took me about two discs, or four sides, to figure out how everything worked and what kind of touch I should use.
Burning two discs out of six does not seem economical. This thought crossed my mind and was part of my initial apprehensions about using the product. I was trying to be perfect at every attempt. But after the first record, I started to relax and have fun with it. I reminded myself once again that I wasn't cutting a major artist's album here. It really is an experience that is about the journey rather than the destination.
After several attempts, I found a rhythm and was able to cut out a few different bits of spoken words from my children. I also tried using a song by artist Lyrah (with permission), but using traditional songs was less impressive.
What does your own vinyl record sound like?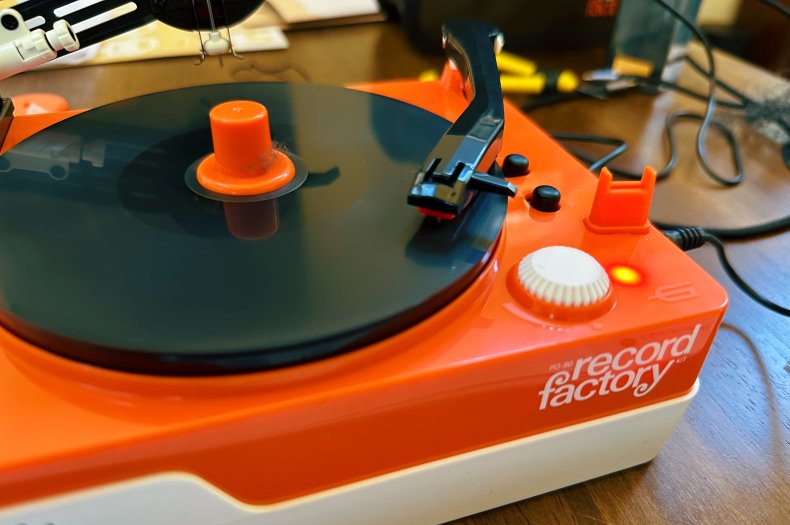 Teenage Engineering mentions that the PO-80 Record Factory is decidedly lo-fi. The music probably won't sound like you expect it to, and it certainly won't sound like a traditional vinyl record. I knew it was okay so I wasn't disappointed with the overall shoddy results. The sounds are in line with the improvised character of the device.
One way to improve the result is to use the company's mastering tool. Upload a song and it will basically compress audio in two different genre styles. You can visit the site to listen to samples and then imagine how that audio could be even worse coming out of a very small speaker.
Should you buy the PO-80 Record Factory?
I sneakily suspect that the Record Factory will either be a joy and delight or a frustrating headache for people. I find it hard to imagine anything in between. That's the nature of this beast.
If you can consider this a learning experience and a journey, then dive in. The Record Factory is equivalent to a LEGO set for music lovers. In this context, there is nothing better. It's the definition of cool.
Buy from SFMOMA for $149.
Newsweek may earn a commission from links on this page, but we only recommend products that we support. We participate in various affiliate marketing programs, which means that we may receive commissions on editorially selected products purchased through our links to retailer sites.