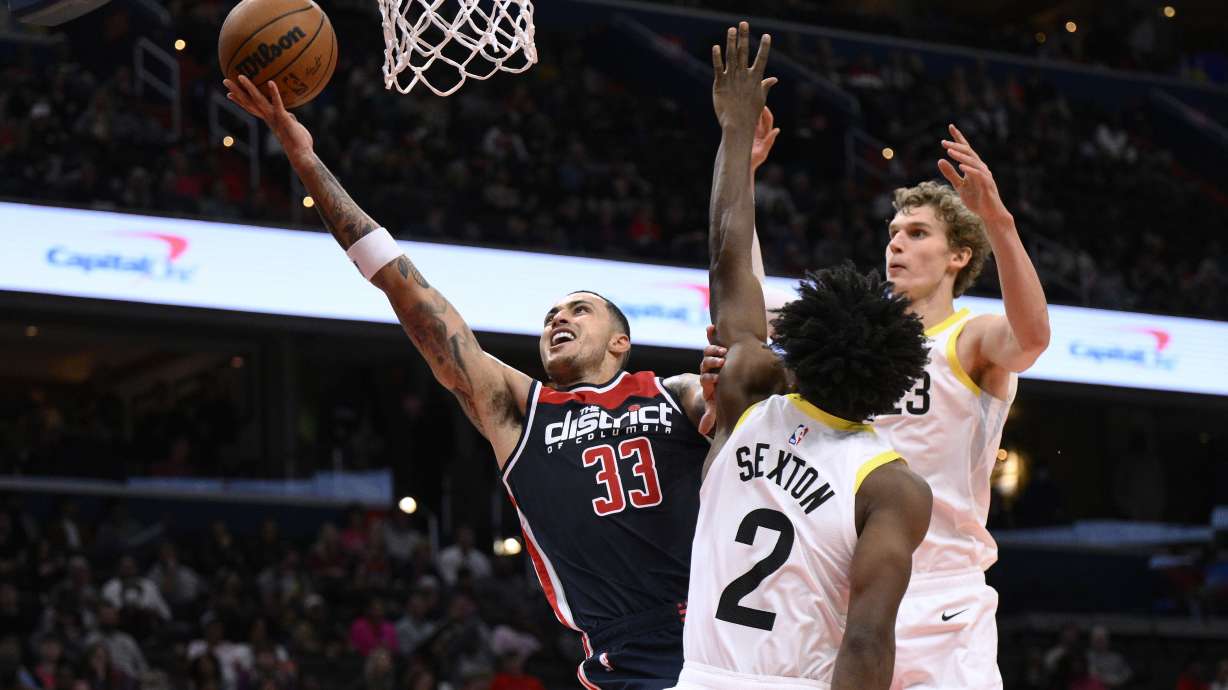 Last season's Wizards are a cautionary tale for the Jazz, but Mike Conley isn't worried
Estimated reading time: 3-4 minutes
WASHINGTON — On Nov. 15, 2021, the Washington Wizards defeated the New Orleans Pelicans to go a surprising 10-3 on the season to stay in first place in the Eastern Conference.
A 10-3 record and the best record in a conference? Yes, that should sound familiar to Utah Jazz fans.
So how did it go for Washington?
After its hot start, things escalated – and quickly. The team went 14-26 over the next three months and the trade deadline featured wholesale changes. Washington finished 35-47, which was good enough for 12th place in the East.
Amid the downward spiral, some of the wizards from last season shared their thoughts on what went wrong.
"Everyone had their own agenda with how they wanted to attack this year, playing," said winger Kentavious Caldwell-Pope, who is now with the Denver Nuggets. "A lot of guys fought for minutes, they complained for minutes, not having the ball, not touching it."
Kyle Kuzma, who is still on the Wizards (and burned down the Jazz on Saturday): "At the end of the day, we started off really well and we just went through a rough patch and really broke up, if that makes sense."
Statistically, as ESPN's Kevin Pelton pointed out, Washington was very lucky in its debut. Over the first 15 games, the Wizards' opponents have made a minimum of 31% of their 3-point attempts. After that, the teams shot the league's third-highest 3-point percentage against them.
The Jazz, likewise, has been on the bright side of some bad filming nights. Of their 10 wins, opponents have shot 31% against them. Unsurprisingly, that number jumps to around 38% in their four losses.
So what can the Jazz, who themselves went 10-3 in the Western Conference this season, learn from Washington's experience last season?
Wizards coach Wes Unseld Jr. offered some advice ahead of Saturday's game. He said trying to maintain a certain level of play was more important than paying attention to a record. It's the NBA, teams are going to win games they shouldn't and lose games where they've outplayed their opponent. It happens.
"There are ups and downs for a long season," he said. "You're going to win a few games that you probably shouldn't, and you're going to go through some slumps. So just try to find common ground and then keep building. Hope you don't let go of the rope in both areas – offensively or defensively – and keep playing together."
So, is Utah in danger of a similar slip-up after losing to the Wizards on Saturday in DC?
Mike Conley doesn't think so.
"We're capable of losing any night, we're capable of winning any night; we know who we are," Conley said. "We're a team that's going to keep competing regardless. We know we're not going to finish the season 73 and whatever; it's very hard to do. We have a great group of guys and a group that understands that tomorrow night is a new day."
Instead of the loss leading to a spiral, Conley believes it will allow the Jazz to learn to be better.
Against Washington, the team knows they haven't recovered enough from the transition or fought hard enough on the switches. He knows that the ball has sometimes gotten stuck, and that he hasn't always found the right shot. These are things he can now fix for the next game.
"We've got the right mentality, the right guys to turn it around and not let one loss lead to two or three or four or five in a row – and hopefully snuff it out before it gets out of hand," Conley said.
They have a chance to do it Sunday in Philadelphia.
×
Utah Jazz Latest Stories
More stories that might interest you