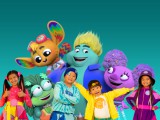 Kidscreen » Archive » Pocket.watch releases a song with Republic Records
Pocket.watch, based in Los Angeles, has teamed up with the new children and family division of Republic Records to produce and distribute a single for the Toys and Colors YouTube channel. This is the first time a pocket.watch creator has released a song with a record company.
Toys and Colors' English-language channel (37.3 million subscribers) has a playlist of over 100 nursery rhymes and pretend videos featuring a group of Asian American children. Pocket.watch signed the brand to its roster last year and is working to build it into a franchise that spans consumer products, games, podcasts and live events.
The single (titled "Colors") will be released this Thursday on the Toys and Colors site, along with a short animated video combining the Toys and Colors set of CG-animated characters and photorealistic backgrounds.
The agreement with Republic Records comes at a good time, given that the consumption of audio content is on the rise. The global podcasting market, for example, is expected to grow 27% over the next five years, according to Grand View Research.
"In the interest of giving kids more of what they love today, we're looking at all the amazing opportunities that music and audio provide," says pocket.watch's vice president of marketing. Amanda Klecker.
Republic Records' children's and family division has been going strong since its launch in August. It partnered with Nickelodeon last week to create and distribute a music catalog for the broadcaster, starting with a Blue's adventure in the big city album containing original songs from the film of the same name.