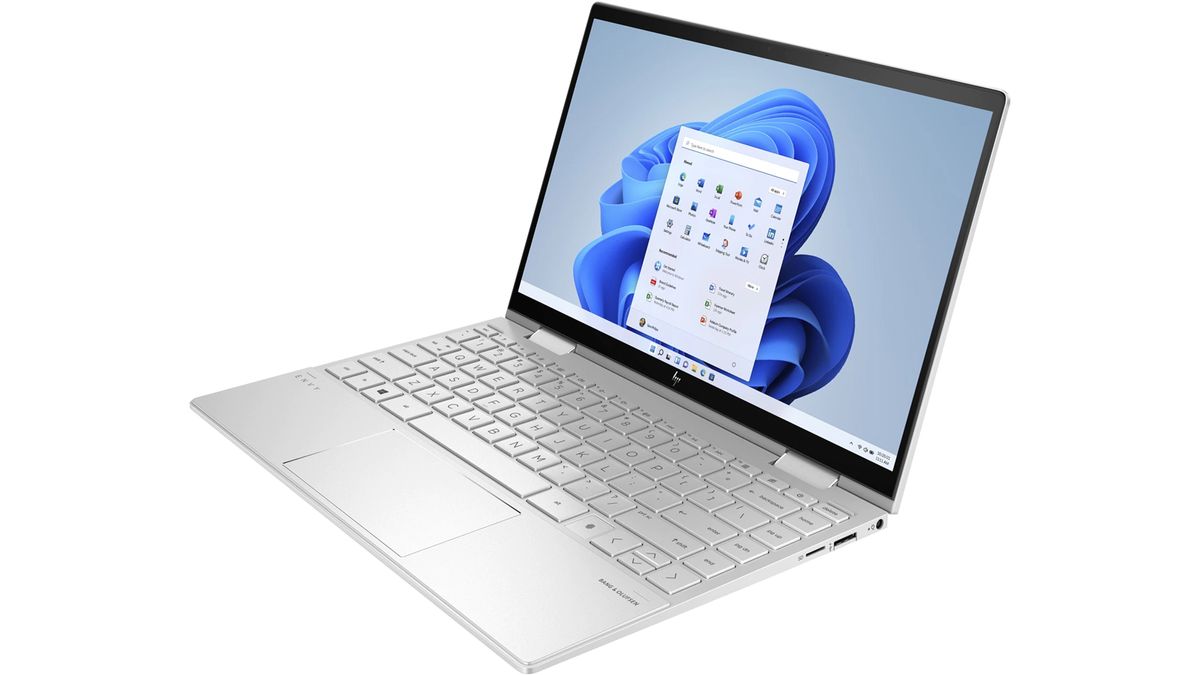 HP Envy x360 13 review: A stylish convertible laptop
The HP Envy x360 13 is worth adding to your list of best laptops if you're shopping for a new model: with its compact 13.3-inch screen that folds up when needed, it puts Windows 11 in a lightweight form factor, while offering decent performance.
You can buy Envy laptops from HP in all sorts of shapes, sizes, and configurations. The one we're reviewing here is the 13.3-inch model – there's also one with a 15.6-inch screen if you want bigger – and it's powered by an 11th Gen Intel Core i5 processor and 8GB of RAM. .
In our full HP Envy x360 13 review, we'll cover everything from battery life to screen quality. In the meantime, if you need to add accessories, check out our guides to the best 4K mouse and monitors on the market right now.
HP Envy x360 13 review: price and availability
You can find the HP Envy x360 13 on sale from most reputable PC vendors: check the widgets on this page for the latest online deals, but at the time of writing it is available from HP, Microsoft, Very and AO, among others. The starting price is usually around £900 in the UK, but if you're looking for special offers you might be able to get it for less than that.
HP Envy x360 13 review: design and screen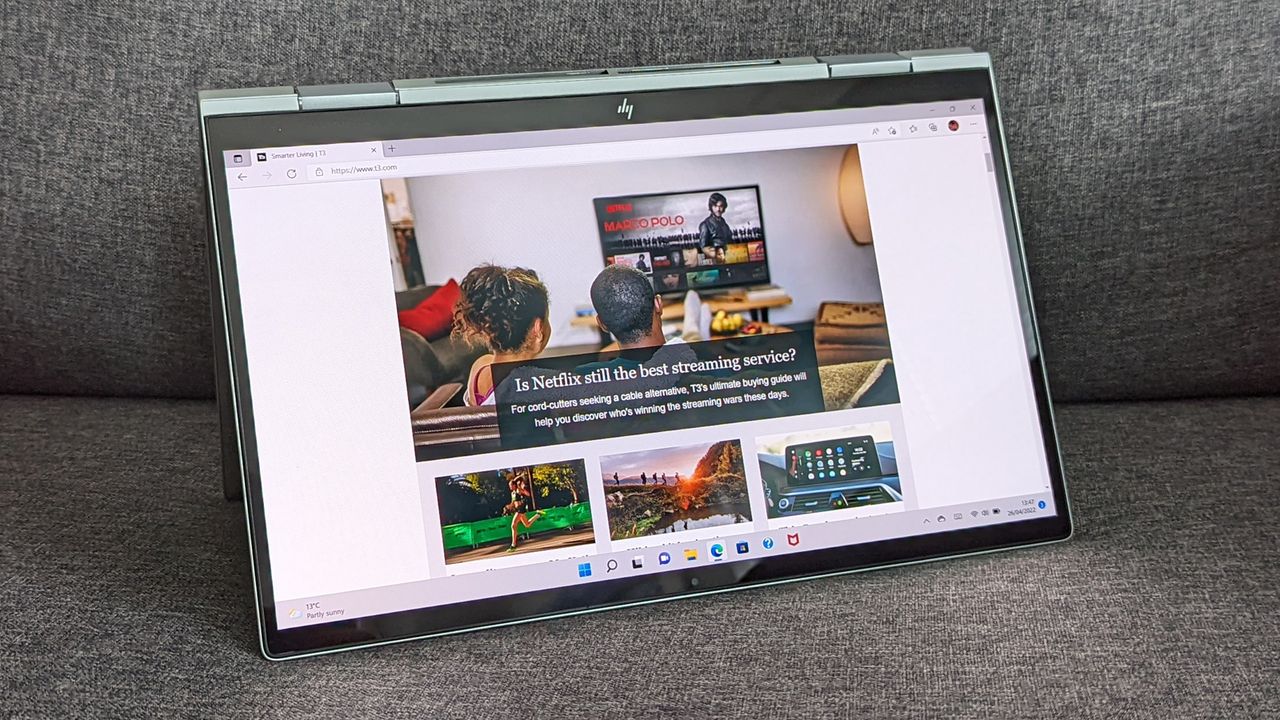 This is a laptop that definitely has a premium feel, all silver and sleek (a pale gold version is also available). There is a mirrored HP logo on the lid which also adds a touch of class.
It's both easy on the eyes and easy on the arms if you're carrying it – at just 1.31 kg (2.91 lbs). If you'd rather have something more portable than a big screen or a keyboard with an attached number pad, then this could be the laptop for you.
The display in our HP Envy x360 13 review sample is the 1920 x 1080 pixel OLED panel. While the resolution isn't the sharpest, that doesn't really matter at this size – and the screen really impresses in terms of brightness (400 nits max), colors and the depth of its blacks (this will be OLED technology for you). It's a great panel for watching movies and shows, especially at that 16:9 aspect ratio (although it's not so good for documents and web pages).
On the screen side, the bezels are respectably narrow without being super thin. The bezel at the top houses a 720p webcam, with a light to tell you when it's active and a button on the keyboard to slide on a physical shutter – really handy for the privacy-conscious.
In terms of ports, you're looking at one USB-C (supporting USB 4, Thunderbolt 4, and DisplayPort 1.4), two USB-A (supporting USB 3), a 3.5mm mic and headphone combo jack, and a drive microSD card.
Of course, the main trick of the HP Envy x360 13 – and perhaps one of the main reasons you might choose it over any of its rivals – is the screen's convertible nature. It folds right over and against the keyboard when needed, so you can use it as a makeshift tablet, or prop it up as a "tent" for watching movies, or whatever else you need to do. The screen is also touch-sensitive, although this feature isn't something we found ourselves using a lot to keep it fingerprint-free.
HP Envy x360 13 review: specs and performance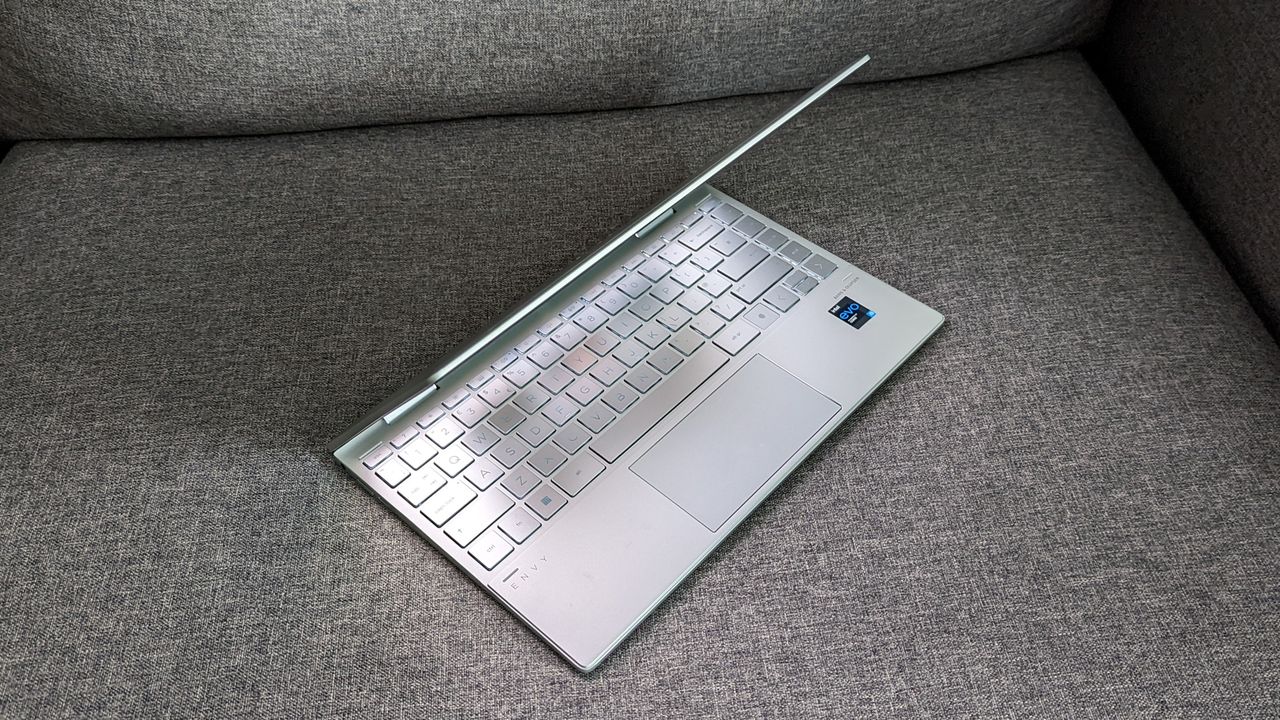 You'll find the HP Envy X360 13 available online in a variety of configurations, so you can choose the one that best suits your needs and budget.
Our review model (coded as the 13-bd0018na variant) features the 11th Gen Intel Core i5-1135G7 processor, 8GB of RAM, 512GB of SSD storage, and integrated Intel Iris Xe graphics. If that doesn't mean much to you, we're talking decent daily performance, but nothing you can run high-end games on.
In the PCMark 10 benchmark we ran, which measures computing performance in common applications that most people will use, the laptop scored 4,410 – or more in detail, 8,383 for the most part, 6,291 for productivity and 4,413 for digital content creation. For comparison, the average for standard desktop laptops on PCMark 10 is 4,611, so you can see where we're at here.
In use, we had no problems with web browsing, writing documents, checking email, listening to music and watching movies: these are the types of tasks that the Intel Core i5 processor and 8GB of RAM will handle it well. A simple game like Mini Motorways runs nice and smooth, albeit with a little extra fan noise from the laptop, but you won't be able to get through games like Red Dead Redemption 2 or Cyberpunk 2077. Hold on Stick to the basics and some light photo and video editing and you'll be fine.
The thermal management seems to have been cleverly thought out on the HP Envy x360 13, and while you'll occasionally hear the fans whirring when the laptop is under heavier loads, the underside of the chassis never got particularly hot during of our tests. We also didn't notice any serious lag or stuttering when working, even with dozens of browser tabs open.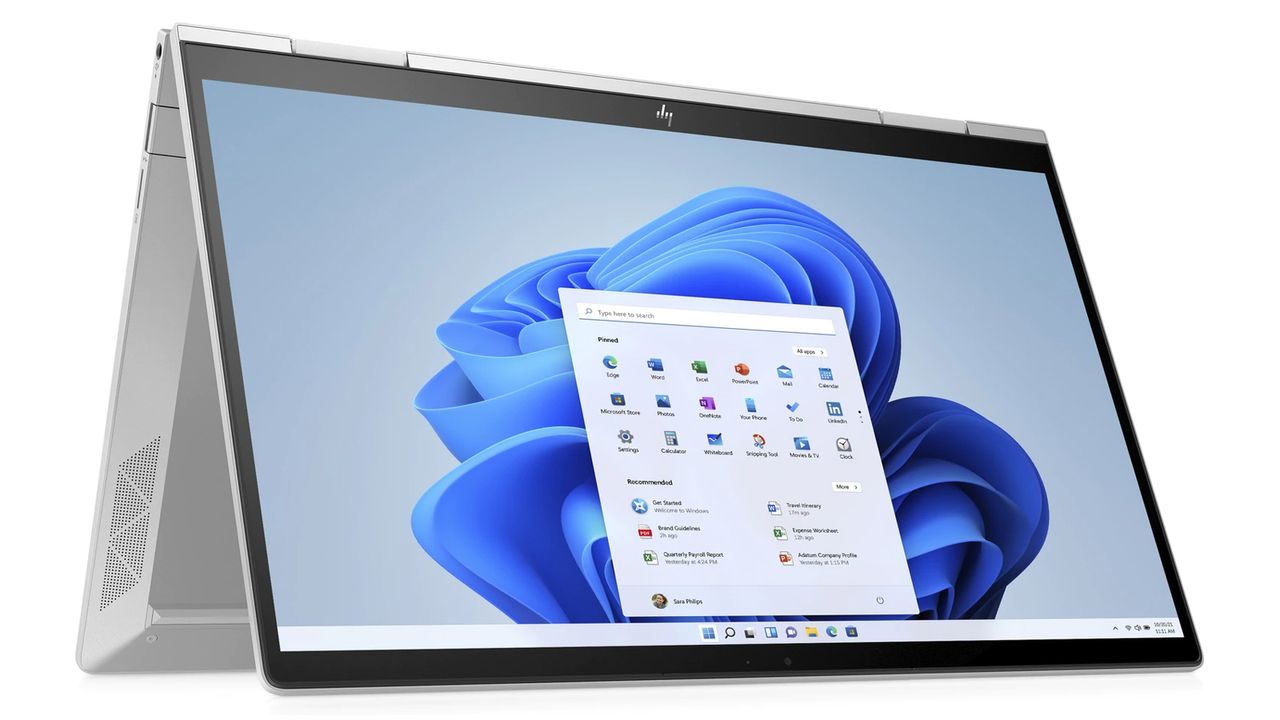 Typing is above all a pleasure on this laptop, with well-spaced keys and plenty of flexibility (without approaching mechanical keyboard territory). The trackpad is quite responsive and tactile, although it's a bit small.
The x360 is a laptop that will be great for writing essays and reports, especially on the go, and we like how HP has pressed some Home, Page Up, Page Down, and End keys to the side of the keyboard without really what gives the impression that they have been dented. There are two brightness settings to choose from when it comes to the keyboard backlight, or you can turn it off altogether.
Bang & Olufsen sound engineering – a staple of many HP Envy laptops – gives the stereo speakers plenty of punch. This laptop won't replace your Sonos speakers, but it's fine for listening to music or watching videos, and it's definitely a step up from the audio experience you're going to get on your phone.
As far as battery life goes, our streaming video test dropped the battery percentage by 14% per hour – that's at low volume and maximum brightness, so with a little tweaking you'll could get more than that. HP estimates you can get over 14 hours of video streaming between charges, but with our setup it was more like 8 hours. So you should be able to spend a working day away from a power supply, but maybe not much more than that.
HP Envy x360 13: Verdict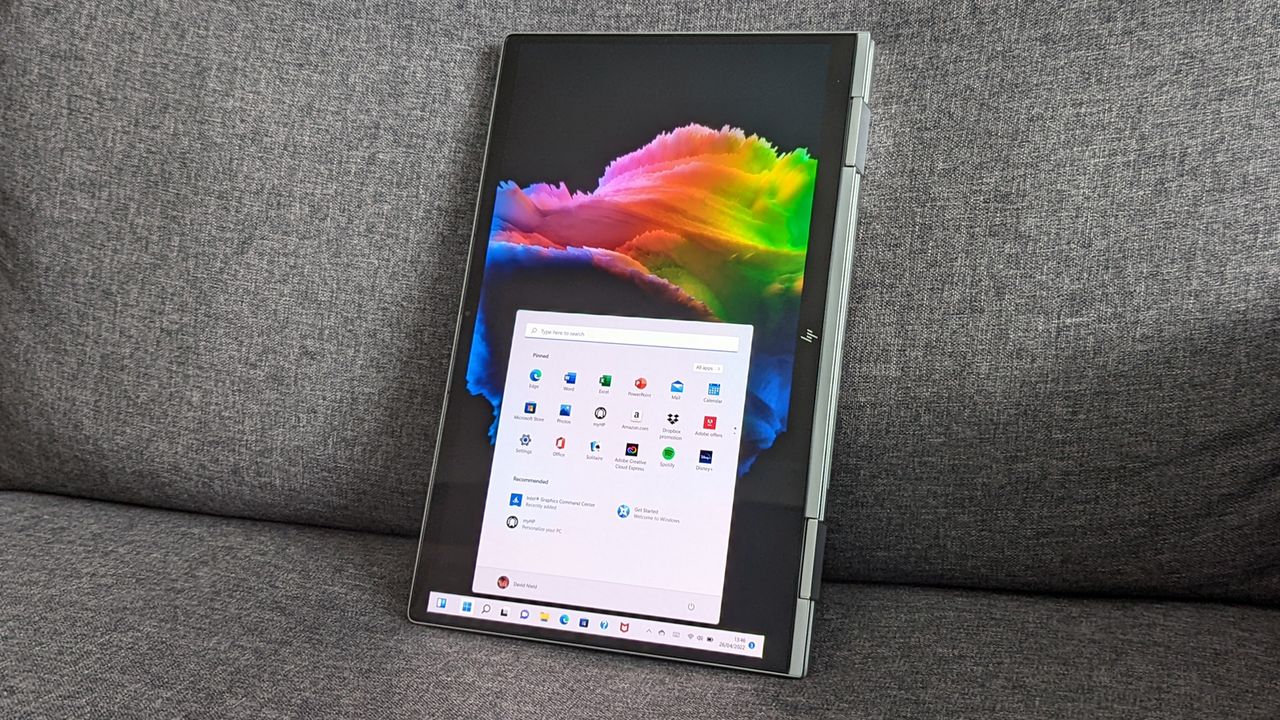 With its convertible touchscreen sitting on a 360-degree hinge, the HP Envy x360 13 will immediately appeal to a certain segment of users – those who like to combine web browsing and digital doodling and movie watching, for example. Few laptops give you so much flexibility in what you can do with it, but keep in mind that you'll need to buy a stylus separately if you want to create artwork on it.
The laptop is well built, as you'd expect from HP, and nicely compact too. It's a perfect mid-range productivity machine for those who want to be able to work on the go for long periods of time and don't want to be weighed down by something bigger. The screen is a definite highlight – it's the kind of display we could spend all day staring at, although the widescreen aspect ratio works much better for video streaming than for viewing. document writing.
On the downside, we didn't find the battery life all that impressive (some screen brightness tweaks might help here), and while the specs are good enough to handle your day-to-day computing needs, you're not 're not going to be able to do anything ambitious otherwise. Manage your expectations, know what the HP Envy x360 13 can and can't do, and you'll be fine – and if you need more power or graphics performance, there are more expensive models in the Envy lineup.
Speaking of price, the typical retail price seems about right for what you're getting. Sure, there are Windows laptops available for hundreds less, but you'll notice the difference in performance, screen quality, and build quality. We think the HP Envy x360 13 is ideal for price, performance, and portability.
HP Envy x360 13: think too
If it's the laptop-to-tablet transformation that draws you to the HP Envy x360 13, then Microsoft's Surface Pro 8 is an alternative worth considering – unlike the HP, it's primarily a tablet, with a keyboard cover required if you want to do some serious typing. The screen is a bit smaller at 13 inches, but it packs a lot more pixels. However, it is more expensive as a result.
On the other hand, those of you who fell in love with the look of the HP Envy x360 13 might want to try something from the same manufacturer: namely the larger-screened HP Specter x360 14.