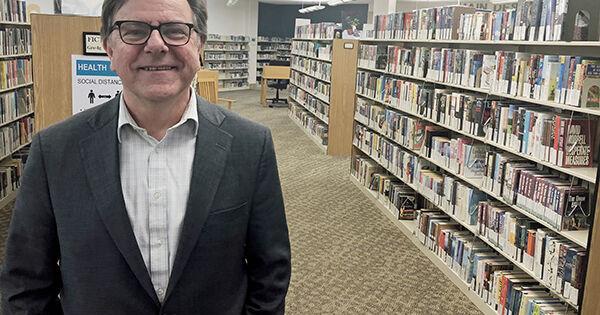 Hahn Brings Love of Books to Director of Sturgis Library | Local News
STURGIS — Christopher Hahn has always been in awe of libraries and what they offer communities.
And now, as director of the Sturgis Public Library, he has a say in how they get there.
"I've always loved to read, so it was sort of a natural fit," Hahn said.
Hahn has spent the past 20 years teaching music classes at Black Hills State University and is currently the director of the Northern Hills Community Band. He says he saw library work as an extension of a lifelong interest in history.
Hahn grew up in Southern California. Both of his parents were educators. The family moved to Wyoming and Hahn completed high school there. He attended Casper College before heading to the University of Miami where he first sought an audio engineering degree.
"After a while there, I realized that they were really training you to be an electrical engineer so you could design the equipment as well as operate it. I ended up moving to another engineering center. interest that was the history of music.
While there, he worked part-time in the school music library, which combined his two loves of music history and librarianship.
He eventually returned to Wyoming and earned a master's degree in music history and literature. Around the same time, a temporary position opened up in BHSU's music department. This temporary gig turned into a 21-year career.
"The library stuff kind of got pushed aside. I then realized it was time for a change and this position opened up," he said.
In fact, the assistant director position opened up at the Sturgis Public Library and that's what Hahn initially applied for.
"They told me they wanted to hire me for the assistant position, but they wanted me to start as an assistant and then when Julie (Moore-Peterson) retires to take the director position," a- he declared.
So, from October to January, Moore-Peterson and Hahn were able to work together and she showed him the ropes before he took on the job of director.
"Things are going well so far. I'm lucky to be able to call him every once in a while if I have a question," he said.
Hahn said his vision for the Sturgis Public Library was twofold.
"We try to keep the literacy aspect going through print and digital in service of what our customers need," he said. "The other side is programming. Humans need to interact with others face to face, and the way to do that is through programming, by having things happen in the library that will draw people in.
Statistics show that the average age of library users is increasing, so one of the challenges for Hahn is to lower that average age. He sees programming as a means to achieve this.
"Whether it's story time or the summer reading program, we know that programming for specific age groups and interests is what libraries need to work on," he said. -he declares. "Providing more services in general, I think, is the direction we're headed in."
To read all of today's stories, click here or call 642-2761 to subscribe to our e-edition or home delivery.