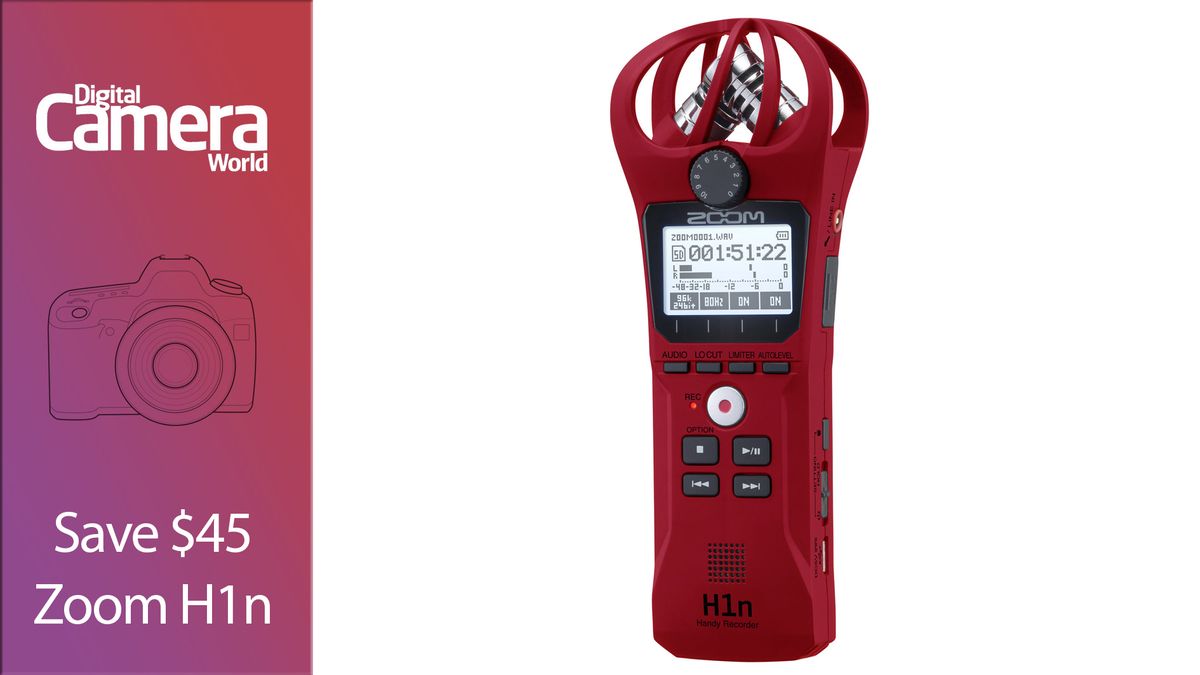 Get Crisp Sound For Just $74 With This Amazing Zoom H1n Audio Recorder At B&H
Crisp sound can really elevate any video or podcast production and will often keep viewers engaged on YouTube, even if your video quality isn't the best. So when you have the opportunity to simply invest $74 at B&H on the Zoom H1n (opens in a new tab)a professional audio recorder that deserves a place among our best audio recorders for filmmakers.
It's a no-brainer to give your productions that extra sharpness, and what's better is that you save $4. However, there is a catch…you have to buy the red one. But red is a great color and that also means you can find it more easily too.
Like other H-series Handy recorders such as the H5 and H6, you can hold it in your hand, attach it to a mic stand or tripod, or even mount it to a camera via the sold shoe mount separately. Born from the base of the original H1, the H1n packs a range of workflow and performance upgrades into a rugged package that's more than ready to meet the varied demands of videographers and podcasters.
The H1n offers great battery life to its multiple audio enhancement features and is well equipped for tracking live performances, rehearsals and demos, or for recording sound effects, interviews and ambience. It can provide plug-in power for a lavalier condenser microphone or accept a direct line-level connection from a mixer or wireless receiver. Whatever the source, selectable Auto-Record and Pre-Record ensure you never miss the start of a take.
You'll be able to record in true stereo without external microphones; the H1n is equipped with a built-in stereo microphone that provides clear and phase-accurate capture. The capsules are arranged in a classic 90° X/Y configuration for faithful stereo imaging. With nothing more than the H1n, you're ready to record speech, practice sessions, concerts, or even the loudest ambient and environmental sounds up to 120dB!
Read more:
Best Audio Recorder for Filmmakers (opens in a new tab)
Best DAWs (opens in a new tab)
Best microphone for vlogging (opens in a new tab)
The best XLR microphones (opens in a new tab)
For nearly two decades, Sebastian's work has been published around the world. Originally specializing in Horse Riding, his visuals have been used by the biggest names in the equestrian industry such as The International Equestrian Federation (FEI), The Jockey Club, Horse & Hound and many more for various advertising campaigns, books and pre/post-event highlights.
He is a Fellow of the Royal Society of Arts, holding a Foundation Diploma in Equestrian Science and an MA in Publishing. He is a member of Nikon NPS and has been a Nikon user since film days using a Nikon F5 and saw the digital transition with Nikon's D-series cameras and is still to this day the youngest member to be elected to BEWA, The British Equestrian Writers' Association.
He knows and shows great interest in medium and large format photography with products from Phase One, Hasselblad, Alpa and Sinar and has used many film cameras like Sony, RED, ARRI and all the rest. His work spans the genres of equestrian, landscape, abstract or nature and combines nearly two decades of experience to offer exclusive limited edition prints to the international scene from his film and digital photography. .