Ella and Louis serve up sweet and salty vocals with a rich trumpet side for this terrific 180g LP Mono reissue from Verve & Acoustic Sounds
Young music fans today may consider the notion of the celebrity duo to be a modern phenomenon unique to our times. It's not. The thing is, the notion of a cross-pollinated artist duo has been around for quite some time. Go back through the pages of music history and you'll find that the concept started a long time ago. There are many fine and interesting pairings in soul and rock & roll throughout the 20th century – more than I could list here – but let's not forget how Gram Parsons and Emmylou Harris made instinctive waves together during a brief stint in the 1970s, while Tom Petty teamed up with Stevie Nicks of Fleetwood Mac with great popularity in the 1980s, as did Peter Gabriel and Kate Bush, and you'll also find hit duo albums from the 1990s by Elton John and Frank Sinatra. Much more recently, Lady Gaga and Tony Bennett have themselves released some fine genre mashup duo albums. (See? I could continue again and again.)
When it comes to jazz, you'll find plenty of dynamic duos on record. One of those legendary musical encounters began in the 1940s, when a young Ella Fitzgerald was hooked up with the already iconic Louis Armstrong, who was himself halfway through his career by then. One of the major influences on jazz in general—as well as what became known as scat vocal styles, which Fitzgerald later helped popularize further—the combination of Satchmo and Ella proved irresistible to the audience. However, it took them several years before they could release a full album together.
In 1956, jazz impresario Norman Granz formed a new label called Verve Records as a new vehicle to promote his rising star, Ella Fitzgerald (whom he then managed). Her belief in her was so strong that Granz's determined vision indeed elevated her to megastar status. One of the first projects on this trip was to reconnect her with Louis Armstrong for a full album (in mono) which was simply called Ella and Louis (Verve MGV 4003). This version proved so successful that there was a sequel, the one in October 1957 Ella and Louis again. The duo reached an artistic peak with their brilliant April 1959 rendition of George and Ira Gershwin's legendary 1930s opera, Porgy and Bess.
UMe, owners and custodians of the Verve Records catalog, have once again teamed up with the good folks at Acoustic Sounds to deliver a beautiful 1LP restoration of Ella and Louis, which costs $38.98. As with all the Acoustic Sounds releases I've reviewed here on PA to date, this new production is globally exemplary. The pressing is top quality, made on thick, dark black 180g vinyl, quiet and nicely centered.
Overall, Ella's warm, melted vocals create a tasty contrast when poured over Pops' more angular, salty popcorn vocals. Add Satch's rich round trumpet playing, and you have the formula for a sweet sonic taste sensation.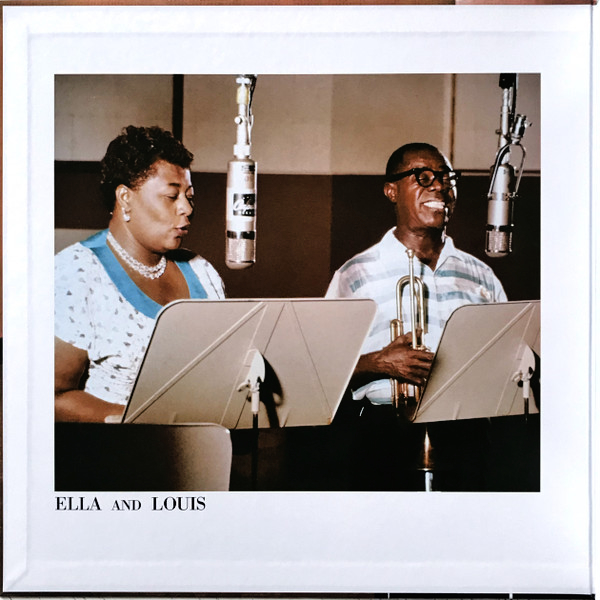 The sound of this new pressing is a wee bit positive compared to my 1950s copy of Ella and Louis, but I think it sounds pretty terrific as an end-to-end listen. It must have been a particular challenge to mix and master this album – both then and now – given that it was two very different singers simultaneously recording side by side in the same room. Each brought distinct dynamic qualities unique to their vocals. Additionally, they were recording at the brand new Capitol Records studios in Hollywood, which may have brought its own unique idiosyncrasies.
There could be a number of reasons for this brighter sound, and my first guess is that it could be due to a limited amount of compression and EQ used in creating the new version. The result is a more open and airy record than the boxier sound of my original copy.
I note that there is occasionally a bit of sibilant distortion apparent. I noticed it mostly on Louis' vocals at times, like on "Under a Blanket of Blue" and "Tenderly". But I can't fault this version, as I went back and listened carefully to my original and it's there too, albeit a bit limited (probably by more EQ or compression).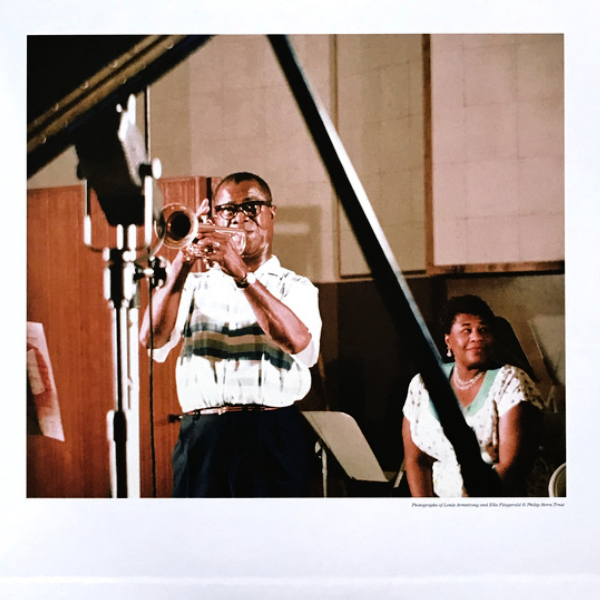 So, you have to go into this listening experience knowing that this is one of those "it's like that" typical situations. Pops voice sounds like it was recorded hot, and in a quest to create a dynamic and intimate recording perhaps he sometimes got a little too close to the microphone. Or, if the engineer may have "turned up" the microphone input levels too high in the red, the original recording might have oversaturated a bit. Again, I don't know for sure, of course, because I'm just speculating here. Anyway, I assume the sound is part of the recording.
(Sidenote: For those curious, no, I don't own a copy of the 2011 Analog Productions 45 rpm release to compare this to, but I did check the 24-bit/96kHz streaming releases on Tidal and Qobuz occasionally – and indeed, Armstrong's raspy delivery is quite sibilant at times there, while Ella's croon remains soft and feathery.)
The backing music provided by Oscar Peterson and his band from this period—Herb Ellis on guitar, Ray Brown on bass, and Buddy Rich on drums—is swingy, subtle, and supportive of the singers in this version. The music is full-bodied and rich, but definitely positioned in the background of the mix. If you close your eyes while listening to "Cheek to Cheek," for example, you'll almost feel like the band is 5-10 feet behind the singers in the room.
If you're deeper Ella and Louis fan, you may want try to find an original pressing, but I suspect you're going to have a hard time. I say this from experience, as I have tried to find a clean and affordable – copying me for many years now. It was a popular album in its time, and like many jazz, pop, and R&B albums of the time, it was often played on average on subpar equipment. Indeed, if you look at the mid-1950s editions for sale on Discogs at the time of this publication, none are listed in quality higher than VG-plus, with prices up to $100.
The cover of this new Verve and Acoustic Sounds edition of Ella and Louis is significantly improved. The original album was a single sleeve design, but the new version is a much more luxurious gatefold wrapper with a beautiful laminated finish and stylish session photos inside. They even reproduced the first orange and yellow Verve Records label design that adorned some pressings from this period.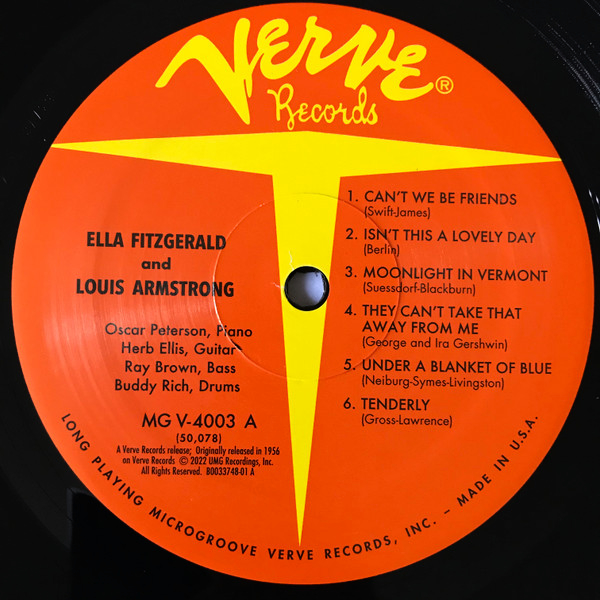 I happen to be familiar with this particular label design primarily from some of Oscar Peterson's easy listening albums, but I think the original intent of the label variation was to try and establish some differentiation brand between jazz and pop releases. (My old copy of Ella and Louis is on the Verve black label, please ask.)
Oh, you might be wondering why the album is in mono and not stereo. This is a very easy question to answer. Stereo discs did not become a consumer reality until around 1958. This does not, however, make this album less pleasant to listen to, because Ella and Louis usually sounds fabulous in mono!
Once again UMe, through its Verve Records and Acoustic Sounds series, has delivered a reissue that is arguably better than the original in almost every way. If you're a fan of these two legendary artists, you probably need this one in your collection ASAP.
(Mark Smotroff is an avid vinyl collector who has also worked in marketing communications for decades. He has reviewed music for AudiophileReview.com, among others, and you can see more of his impressive resume at LinkedIn.)

ELLA FITZGERALD AND LOUIS ARMSTRONG

SHE AND LOUIS

1LP 180g mono (Verve/Acoustic Sounds)
In front of

1. Can't we be friends

2. Isn't It a Beautiful Day

3. Moonlight in Vermont

4. They can't take this away from me

5. Under a blue blanket

6. Tenderly
B-side

1. A foggy day

2. Stars have fallen on Alabama

3. Cheek to cheek

4. Closeness to you

5. April in Paris