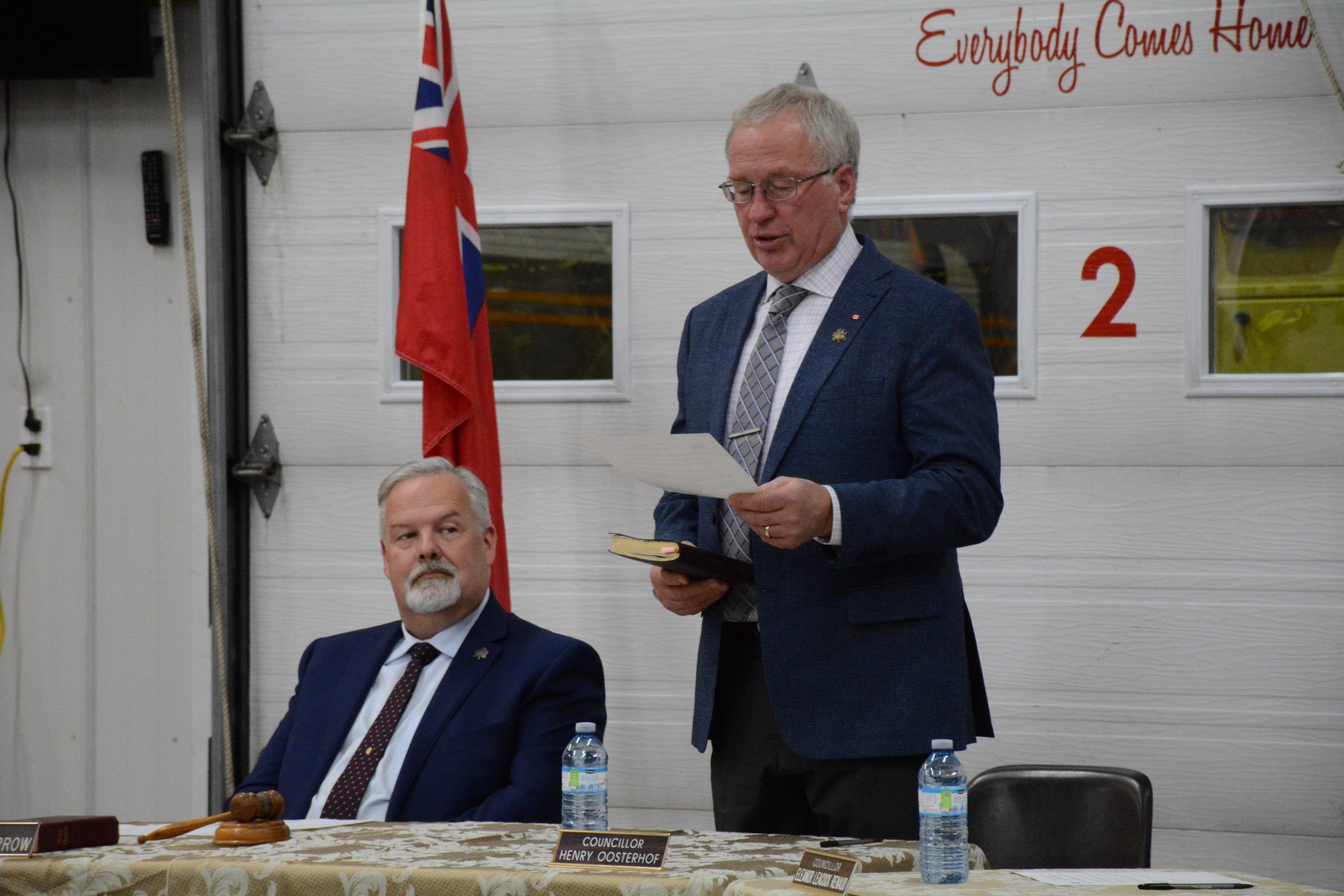 EK Council returns with a new voice
Content of the article
It's business as usual in the Township of Elizabethtown-Kitley – except for a new face – as a new term of council officially kicked off earlier this week.
Content of the article
The mayor and councilors were inaugurated on Tuesday evening to officially begin the 2022-2026 term, and the only change will come with newcomer Henry Oosterhof, a local business owner who runs a multigenerational dairy farm in Jellyby.
Oosterhof won acclaim after taking the seat vacated by the old board. Susan Prettejohn, who moved from the township to Brockville earlier this year.
During the swearing-in ceremony on Tuesday evening, Oosterhof thanked his family and friends for supporting him and said he looked forward to working with the board in the years to come.
"Over the past few months, I've had the opportunity to meet with all of the board members here and the staff. I can only speak highly of the reception I received," said Oosterhof.
Content of the article
"I look forward to taking on the challenges and meeting them together."
The ribbon-cutting ceremony was held at the Lyn Fire Hall, where snacks and drinks were served to a healthy crowd of supporters, firefighters and township residents.
The election brought little change this year; as only six people ran for the six seats, there was no council election and five of the six were incumbents.
Incumbents Earl Brayton, Christina Eady, Rob Smith, Eleanor Leacock-Renaud, Tom Linton and Oosterhof all received acclaim.
Brant Burrow, who was elected to his second term as mayor after beating out his opponent Dan Downey, welcomed the returning councilors and Oosterhof.
Content of the article
"I've been fortunate enough to know Henry over the last year or two in other ways, and I know (he) is going to make a nice addition to what is a returning board, basically. It's a very interesting set of circumstances to know exactly what we have to work with," Burrow said.
"It's kind of comforting to know that we can just maintain the momentum we've all built over the past four years, and I look forward to continuing to lead the board this next term by doing more of the same things as we've been doing for the past four years."
Smith, who was elected in 2010 and is now serving his fourth term, said he was happy to return to the board.
"There is no 'I' in 'team,' but there is an 'E' in us, and we as a council will work together for the betterment of our township," Smith said Tuesday. .
Content of the article
"We have challenges for the next four years. We have roads and bridges to build. We must complete our reserves. I look forward to working with and representing all residents of Elizabethtown-Kitley.
Brayton, who was elected in 2006 and is entering his fifth term as councillor, said he was happy to see a crowd at the groundbreaking ceremony and hopes to see that enthusiasm carry over to regular council meetings. advice.
"The rooms are reopened. As of now they are open and I hope to see everyone in the rooms.
Leacock-Renaud, who served a few terms as a councilor in the 2000s but was re-elected in 2018, stressed the importance of working together with Township employees.
"This team is made up of more than the seven of us; it is also the staff.
Eady, whose daughter helped take the oath by holding the Bible, said she was excited to get back to work.
"We have done well in the last four years, and I think we will do even better in the next four years. I can't wait to be there," said Eady, who was first elected in 2014.