Canon announces the EOS R5 C
Canon announced the EOS R5C, a mirrorless camera that blurs the lines between a full-frame mirrorless camera and a full-fledged Cinema EOS motion picture camera. As such, it draws heavily from the R5, both internally and externally, as well as borrowing pro features from Canon's Cinema EOS range.
From the front, there's little to distinguish it from the R5, apart from the Cinema EOS 'C' logo on one side and a prominent red shutter/record button on the other. But there's a substantial bulge to the rear of the camera, which accommodates a much-needed fan to keep things from overheating when recording at high resolutions and high frame rates, as the R5 is fine famous for. The power switch, which lets you choose between photo and video modes, shows how Canon has separated photo and movie modes, providing two entirely different user experiences.
In photo mode, you essentially have the features and capabilities of the standard R5 at your disposal, i.e. the same 45-megapixel CMOS sensor with Dual Pixel autofocus delivering up to 12fps and 20fps burst with the mechanical shutter and electronics, respectively. There's one significant omission though: the R5 C doesn't offer in-body image stabilisation. Instead, the R5 C can combine electronic stabilization with lens-based stabilization, although it does result in a minor 1.1x crop.
In movie mode, you're instead presented with the Cinema EOS menu system offering the vast majority of features and formats found on professional-level Cinema EOS cameras, including various features you don't get in the R5. Thanks to this included fan, the R5 C offers unlimited recording time in all modes up to 8K/60p, without sensor cropping, including 4K/120p recording in 4:2:2 10-bit color. Dual Pixel CMOS AF is also fully operational in all video modes.
The R5 C is the first non-cinema EOS camera to feature Cinema RAW Light, as found on the EOS C300 Mark III and EOS C500 Mark II. As the name suggests, the format offers more manageable file sizes than Cinema RAW, while capturing the full dynamic range of the sensor and delivering video data optimized for advanced color grading and HDR. Cinema RAW Light offers three quality settings, HQ (high quality), RAW ST (standard quality), and RAW LT (light recording). All three modes are 12-bit. The R5 C can also record 8K videos in MP4 format.
Slated to ship in March 2022, the EOS R5 C has an MSRP of $4,500.
---
When purchasing underwater photography equipment like the product mentioned in this article, please support DPG by supporting our retail partner—backscatter.com.
---
PRESS RELEASE
Ready for anything: The Canon EOS R5 C full-frame mirrorless camera bridges the gap between Cinema EOS and EOS technology
Ideal for a wide variety of content producers, including YouTubers, wedding, indie and documentary filmmakers, drone operators and media journalists
MELVILLE, NY, January 19, 2022 – Imagine having the best of both worlds at your fingertips. A Canon camera with equal parts video power and digital imaging power, all in one compact and lightweight body. Canon USA, Inc., a leader in digital imaging solutions, is thrilled to announce the EOS R5 C full-frame mirrorless camera, an RF-mount 8K mirrorless camera that has something for everyone. The new camera introduces video formats and features from the company's award-winning Cinema EOS range, along with some stills features that have made the EOS R5 camera a popular and trusted choice among image professionals and videographers alike. passionate.
"Imaging professionals live in a multimedia world. Gone are the days of being sufficiently equipped and competent for video or stills," said Tatsuro "Tony" Kano, executive vice president and general manager of Canon USA's Imaging Technologies & Communications Group. "The EOS R5 C is squarely focused on providing end users with a solution capable of tackling all facets of the ever more demanding multimedia and content production landscape. Canon is confident that this all-in-one solution can help improve workflow for a variety of content creators. »
Small, but mighty
The EOS R5 C camera can record 8K/60P seamlessly and uninterrupted thanks to an active cooling system. 8K video delivers exceptional definition and realism with four times the resolution of 4K video, enabling unprecedented capabilities for video expression and extremely flexible workflows, such as 4K cropping from 8K footage.
The EOS R5 C camera can record high frame rate (HFR) video up to 120P at 4K resolution in 4:2:2 10-bit without cropping the sensor, an ideal option when shooting scenes full of fast action or when the camera is paired with a gimbal or drone. Canon's famous Dual Pixel CMOS AF is functional even in HFR shooting. Unlike some cameras where audio is not recorded during HFR shooting, the EOS R5 C camera can record .WAV audio to a separate file from the video, virtually eliminating the need for a separate audio recording.
The EOS R5 C is the first Canon camera to provide 8K (8192×4320) 60P Cinema RAW Light internal recording. Cinema RAW Light is a popular and valuable format found in other Canon Cinema EOS cameras such as the EOS C300 Mark III and EOS C500 Mark II. This feature captures the full dynamic range of the sensor and delivers cinematic-looking video data, optimized for advanced color grading and HDR, in a more manageable file size than Cinema RAW. Cinema RAW Light now offers three newly developed modes, RAW HQ (high quality), RAW ST (standard quality) and RAW LT (light recording). All three modes are 12-bit, regardless of frame rate. The EOS R5 C can also record 8K video in MP4 format, ideal for faster delivery.
The EOS R5 C supports RAW output via HDMI for ProRes RAW recording with a compatible external recorder. When connecting the EOS R5 C to a supported external recorder, users can shoot in Apple ProRes RAW up to 8K/30P. Proxy data can also be simultaneously recorded to an in-camera SD card, helping to provide efficient post-production operations.
Powerful still imaging performance
With the flip of a switch, the EOS R5 C becomes a familiar force to be reckoned with as a camera for photography. At its heart is Canon's high-resolution, high-speed 45-megapixel full-frame CMOS sensor, paired with the equally impressive DIGIC X Image Processor that gives users an ISO range of 100-51200; expandable to 102400 . Precise focusing and lightning-fast speed are cornerstones of the EOS R5 C, with Dual Pixel CMOS AF II and high-speed continuous shooting up to 12 frames per second (fps) in shooting mode. mechanical shutter and up to 20 fps in silent electronic shutter mode. This allows users to track and photograph the split-second movements of even the most elusive subjects. With the EOS iTR AF X and 1,053 automatic AF areas, it's easier than ever to shoot people using eye, face and head detection AF, or intuitively track everything the body, face or eyes of cats, dogs or birds with Animal Detection AF . For those who need speed, the camera also offers vehicle subject detection to accurately track cars and motorcycles, especially in racing type environments. Connectivity such as 5 GHz and 2.4 GHz Wi-Fi® and Bluetooth® connectivity is also included for transferring still images.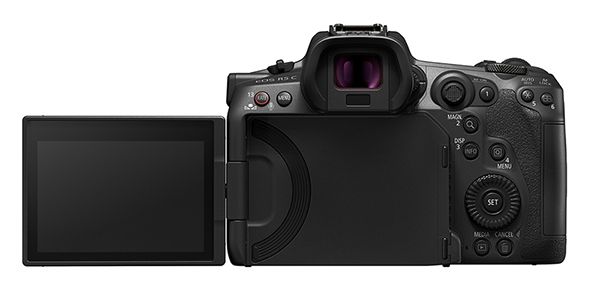 Additional features of the Canon EOS R5 C camera include:
Supports 8K HDR recording in Hybrid Log Gamma (HLG) and Perceptual Quantization (PQ) formats
4K and 2K upsampling with high definition debugging algorithm that processes RGB data from the 8K sensor with less incidence of moiré, false color and noise
XF-AVC codecs deliver robust 10-bit 4:2:2 files in an .MXF wrapper for easy compatibility with nonlinear editing systems (NLE) and existing workflows
Canon Log 3, found in many Canon film products, is available for a wider range of post-shoot calibrations
Coordinated Image Stabilization (with Canon lenses equipped with Optical Image Stabilizer) helps correct hand shake and provides better anti-shake performance than Electronic Image Stabilizer alone
Timecode terminal enabling multi-camera shooting
Canon's next-generation multi-function shoe is compatible with a variety of accessories, such as an optional TASCAM CA-XLR2d-C XLR microphone adapter (sold separately) for up to 4-channel digital audio
RF mount provides access to Canon's growing range of RF lenses, as well as the full range of EF lenses (adapter required)
Compatible with Canon's new RF 5.2mm 2.8L Dual Fisheye Lens enabling 180° stereoscopic VR video capture
13 labeled and assignable buttons allow user-friendly custom operation
Compact and lightweight at 1.7 lbs. (body only)
3.2-inch vari-angle LCD screen and 5.76 million-dot high-definition viewfinder
Two card slots: one CFexpress and one SD UHS-II
USB Video Class (UVC) connectivity, allowing plug-and-play use as a streaming video camera
A new DR-E6C DC coupler helps deliver the continuous power needed for the demands of Cinema RAW Light shooting at high frame rates
Price and availability
The Canon EOS R5 C full-frame mirrorless camera is expected to be available in March 2022 for an estimated retail price of $4499.00. For more information, please visit, usa.canon.com