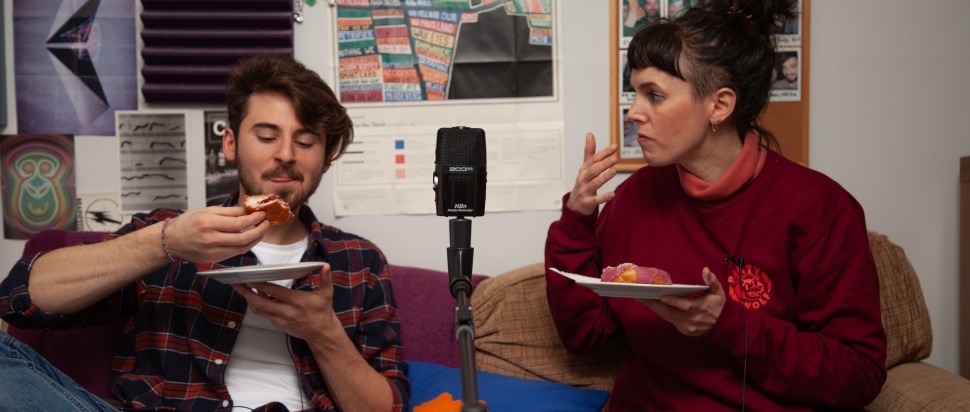 Ben Corrigan on his award-winning podcast and compilations
What if you could create a piece of music with one of your favorite musicians, but there are rules and limits you have to stick to: no part of the music can be predetermined, you can only use a single instrument or element to create this piece of music (electronic manipulation is however allowed) and you only have one day to complete it. Sounds crazy, right? But it's a major element of composer Ben Corrigan's award-winning work Forgive the mess podcast, which has now seen him collaborate with 17 of his favorite musicians and songwriters.
The podcast's first episode aired in September 2017 with Austrian handpan player Manu Delago, who produced Anoushka Shankar's 2016 album. land of gold and worked and toured extensively with Björk. An impressive first take. Following a "getting to know you" type discussion between Corrigan and Delago, the pair then set to work on creating a piece of music together, and you can hear the process as part of the podcast before the entire composition is played.
Since that first episode, Corrigan has invited everyone from Gold Panda and Hannah Peel to Oliver Coates and Anna Meredith, and while many artists have chosen to use instruments they are used to working with, there are has some unusual choices to find. also as a skating rink (Mira Calix) and a pot of pesto (Meredith) – sun-dried tomato in case you were wondering. In February, all 17 tracks created via the podcast are getting a two-part digital release with beautiful limited-edition books, so we catch up with Corrigan on Zoom for more.
The Skinny: Can you give us some information about yourself for our readers who may not know you and your podcast?
Ben Corrigan: I'm from Carlisle…I listened to metal and played in a metal band, I didn't grow up with a classical background. But I ended up getting into film music and from there I really got into classical music…I built a portfolio and got a place at Trinity Laban to do some composition. I didn't really have a clue about electronic music and there was an introductory lesson in Logic Pro, and that became what I wanted to delve into the most.
I finished my course and spent some time assisting various people and composers and doing sound engineering. I made a pass for [film composer] Patrick Doyle and Anoushka Shankar, his engineer. I was basically helping other people and thought it would be nice to have my own thing.
I first got into podcasts because I was a fan of Jonny Greenwood and he was doing an interview with Adam Buxton. I listened to that, loved it, and really liked his style of podcasting. Then I listened to an Oliver Coates album where most of the sounds were just cello and cello distortions. A few other factors brought this whole concept together… like Do Against the Clock magazine, this idea of ​​some time under pressure [scenario to] creating something from scratch… The other limitation was no pre-planning, so it feels very spontaneous.
How did you turn the idea into reality?
I provisionally knew a few composers and there were people who were friends from university; these people are busy, you know, they probably have a waiting list of people who want to make music with them. But I was thinking, how do I basically get them into a room to do a piece of music, people I look up to, and make it not feel too engaged? [I said] we'll talk about you and your music, it's like a little promo, and then this idea of ​​a very low-stakes songwriting session, don't worry if it comes out crap at the end. Hence the name – Forgive the mess. I sort of see my podcast as reverse engineering song exploder.
Was it difficult to convince people to get involved?
Some people were certainly difficult… Anna [Meredith], for example, she was supposed to be in the first series; it was great to have Anna in the second series. I'm also a little amazed at the willpower in some ways. I'd be terrified to do my podcast on the other side… I try to put the artist really at ease, and it helps me to know him or have a tenuous connection with him, a friend of a friend, that sort of thing.
Everyone seems surprisingly calm during the process. Was it really like that or was it just a clever edit?
I've done editing wonders in the past, but you kind of picked up on something that I hadn't really thought of. There's a lack of frenetic pressure and stress even if it's very fast work, engaging in ideas, trying to generate something bearable… It's all kind of small harmonious writing sessions . I guess having the conversation puts people at ease first, they're at ease, I've brought out tons of snacks. People seem to really like snacks, it's almost the thing they remember the most.
I need to know about these snacks.
There's these great crisps, like fancy crisps, called Eaten Path, they're balsamic vinegar and made with beans and peas. They have a nice crispiness. They are not too greasy but they are really more greedy.
You should use them as an "element" for your next track.
I like the idea of ​​doing non-instrumental instruments, like the pesto pot with Anna. I find them almost more exciting. But yes, cookies, cookies, cookies, lots of cookies, tea, coffee, cakes, and then some fruit…usually a grape.
Snacks aside, do you have a favorite finished track?
There's one that's really sweet and short and quite transporting from the first series with Mark Lockheart, a floating saxophone thing. But I can't really say if there's a favourite, I rush to every writing session and really enjoy the day.
From Delago's hypnotic Collider and Mira Calix's glitchy Skating on Thin Ice to Gold Panda's vinyl sampling on Lanza and Meredith's hyperactive Oopsloops, as a collection of music, the Forgive the mess the builds are remarkably consistent. How have you lived and worked with the different processes of each?
It's amazing to me…I get a masterclass and I get to sit in the room with someone who's an absolute beast at what they do, and then I can share that. The beauty of rules is that they can really focus us and keep us from getting too distracted, and then you get a pretty pure essence of how they work and how their minds work.
What was it like discovering the Meredith card?
Definitely a highlight. He's a great example of someone who really found not only their voice, but the process behind that voice. Some people have these quasi-routines like Anna and some people, maybe they have an instinct that pushes them towards their sound… An example is that of Mira Calix. Pretty soon it started to sound like a Mira Calix tune, it was very jerky… Everyone seems to have this little relationship with chaos where they can generate things… Mira was just hacking off bits of audio and pushing buttons.
Have you had trouble sticking to your three rules?
Yeah, there are a few cheat bits. Like, Hannah Peel was just like, 'Aw, that would be great to do some vocals on that,' and I was like, I can't say no to Hannah Peel!
Both digital compilation albums and limited edition books are coming out this month, was that always the end goal?
Not at all. I thought I was just going to quietly post them on Bandcamp. I quietly released [volume one] not much fanfare at the end of this series but then for various reasons including COVID I just sat through two full series and thankfully over the past year and a half Hidden Note has had time to reflect on about their label and what they want to do. They [suggested the] coffee table books…it's a nice way to bring a very digital project into the physical world.
What can people get from books that they won't get from podcasting or music?
Without retracing my steps, I talked a bit about each artist and the era, things that still resonate with me now. I hope people who like the podcast can flip through it and maybe get a feel for some of the artists, get a feel for them, a feel for the day, a feel for the music. I see the book as CD liner notes on steroids, a beautifully made accompaniment to music and podcasting.
The podcast stopped almost as soon as the pandemic started. Are there any plans for a third series?
I think so. I have a wish list and at some point I will start spinning the gears again. It would be good to try to do new things, I would like to work with more electronic artists.
In keeping with the fantasy theme of this issue, who would be your dream collaboration, dead or alive?
The whole 'live or dead' thing makes it even more difficult, you know I like limits! I think Ryuichi Sakamoto would be good, I really got into Yellow Magic Orchestra. I also really like this CHAI group, they are amazing.
I have a kind of fantasy with the podcast in fact, to make it a traveling one. It's a bit of an obvious choice, but I would do an American series and I could do, you know, a couple of podcasts in different cities and that's the series, and it could also be kind of a travel blog. I think the podcast should first become more famous. He has a very niche audience, I would say.
---
Forgive the mess volumes one and two, along with the accompanying books, are released February 4 via Hidden Note Records
Listen to the Forgive the mess podcast in all the usual places
etmpodcast.com
excusethemess.bandcamp.com